Our Family History Centre
Our Family History Centre is at Broadway House, Peter St, Yeovil BA20 1PN. Phone: 01935 429609. Email: [email protected]
Broadway House Family History Centre, our home in Yeovil, is an ideal location in the centre of the town, close to cafés, restaurants, hotels and the central bus station, from where buses run regularly to Sherborne and other towns and villages. Yeovil Junction station (on the main line between London Waterloo and Exeter) and Yeovil Pen Mill station (on the Bristol to Weymouth line) are each a short bus-ride away.
There is ample car-parking in the centre of Yeovil and Anne Warr has kindly prepared a map of the closest car-parks with details of current charges. Download as PDFs:
When are we open?
Opening times until further notice: Monday, Friday, Saturday, mornings (10.00am to 1.00pm). Thursday 10.00am to 4.00pm.
Entrance to the Family History Centre is free to members of the Society; non-members pay a day visitor's fee of £3.
What will you find at the Family History Centre?
Parish Files
We have a file for every parish in Somerset and Dorset, and these contain transcriptions of many baptisms, marriages and burials in the parish church. Files may also contain similar details for other denominations, and the majority of the files also hold memorial inscriptions (MIs) and similar material. In some files you will find 'parish packs' which will give you additional background information.
The Library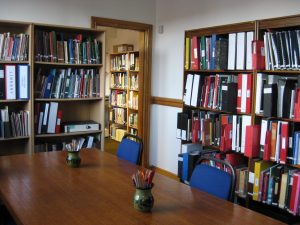 The Society's Library has more than 4,000 family, local, and military history items, and apart from the many books you will find CDs, microfiches and maps. All together, these cover a wide range of relevant topics including village histories, areas of specialist research, and the works of many local authors. The collection includes The History of Somersetshire (1791) by the Rev. John Collison and The History and Antiquities of the County of Dorset (1861) by John Hutchins. Plus a full set of back copies of the Society journal, The Greenwood Tree. Books cannot be borrowed but our Volunteers can consult and search publications for you. We can also (subject to copyright restrictions) photocopy for you individual journal articles or up to 10% of a book, at 25p per page.
Access to Ancestry/FindMyPast/The Genealogist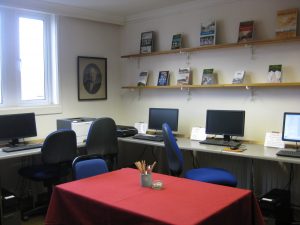 There are six computers and you can access all of the above sites, plus many more available online. If you need guidance, one of our volunteers will help you find your way.
SDFHS Indexes
A wide range of lists and indexes: some may be searched by yourself, others by a volunteer for a small fee. We can also search the Society's large collection of donated pedigrees and family trees.
The Society's Bookshop
The Society's book shop has a stock of more than 800 titles, including the Society's own publications (mostly census indexes and some parish register transcriptions), an extensive selection of Somerset and Dorset local history books, indexes to Somerset and Dorset records, general genealogy and family history guides, historical maps, and binders for the Society journal, The Greenwood Tree. Click here for lists of books and further information
We can undertake research for you
If you are unable to visit the Centre in person you may like to contact the Research Team who will undertake research for you. This service is reasonably priced, and provided by volunteer members who will research on your behalf using the records held by the Society in the Research Centre.
Volunteer's research: a minimum fee of £5 (Members) or £10 an hour (Non-Members) is charged for research work undertaken by volunteers. This is intended to cover administrative costs and up to an hour's research. Any further research is charged at £5 an hour (SDFHS Members) or £10 an hour (non Members). For details of how to make payments to the Society click here.
Volunteers
The Society always welcomes new Volunteers, who can either work at the Society's Family History Centre in Yeovil or remotely from home. Volunteers, who will need to be computer-literate, play a huge part in welcoming visitors to the Centre and in caring for and adding to the Society's records and databases. Please contact us if you are interested.
Volunteers with particular responsibilities are:
Building Manager – Ted Udall
Head of Research – Dorothy Bower
Database Manager – Delia Horsfall
Library – Anne Warr
Book Sales – John Brooking
Membership Secretary – Liz Porter
Pedigrees Index Service – Wendy Lugg
Social Media – Liz Craig
WordPress blog- Barbara Elsmore
Contact us
By post: Somerset & Dorset FHS, Broadway House, Peter St., Yeovil, Somerset BA20 1PN United Kingdom.
By telephone: 01935 429609. The Family History Centre has a telephone answering machine to take calls when the Centre is closed. Someone will return your call when they are next at the Centre.
When are we closed?
The Family History Centre is normally closed on Tuesdays, Wednesdays and Sundays; as well as over Easter and Christmas, and on Bank Holidays.