SOMERSET AND DORSET PHOTOGRAPHS PROJECT. A Hidden Resource.
Introduction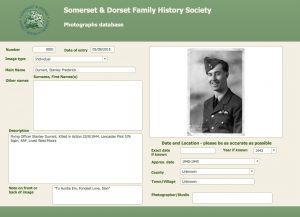 We all have family photographs tucked away in albums or envelopes which never see the light of day. These will probably include portraits, groups and scenes. All of these could be shared with fellow researchers.
The Database
This contains a collection of digital photos, donated by individuals and researchers, linked by a searchable database. In addition to family photos there are also collections, i.e. of WW1 portraits (local newspapers) and the Philips Collection (Wells Museum).
The data can be searched in many ways including:- Name, Location, Date, Photographer, Studio.
How you can help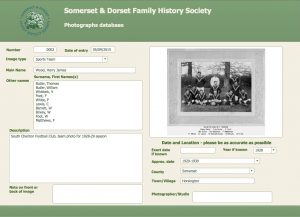 Can you help by letting us have any of your family history photographs? We are interested in weddings, works and sports groups, outings as well as individuals, buildings and locations.
People must have been born, lived or worked in Somerset or Dorset but buildings must be located in one of the two counties.
We would like as much information as you have on the individuals in the pictures. This could include their names and relationships, the location, the date the picture was taken, any notes on the back of the photo, details of the photographer and studio (if given). Even if you are not sure of names, later researchers may be able to identify them.
Pictures of buildings and locations could be of:- houses, farms, halls, shops, factories, churches, inns, pubs, railway stations, theatres, parks and the seaside. We would also like images of early transport such as:- horse carriages, motor cars lorries and buses, bridges, early road signs, aircraft and boats.
We accept images on CDs, USB memory drives and by E-mail in most digital image formats (TIF, JPG etc.). Our inputting team can then upload the information on to the searchable database.
Researchers can call at our Family History Centre in Yeovil, (by prior arrangement) where we can scan photos, take details and return them.
We would like to have your permission to supply copies of the photographs to other researchers. (We would make a nominal charge for this service to cover costs).
Searching
You can search an INDEX of the images that we have by clicking this LINK. Information on the Photos, names, places and dates and much more can be found. Unfortunately you will not be able to view the actual images here.
Please contact The Somerset & Dorset Family History Society [email protected] ref Photo Project if you would like a copy of a particular image, or for more information.