The Ridout/Rideout Project
Background to the Project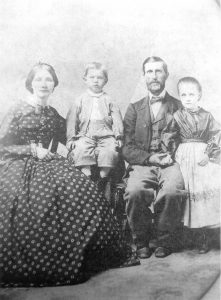 Orlando Ridout IV of Annapolis Maryland, USA, a long time friend of William (Bill) Ridout (1934-2008) has generously established a memorial fund with the Somerset & Dorset Family History Society to ensure the one-name genealogical archive created by Bill Ridout, and bequeathed by him to the SDFHS, is preserved and made widely available. An obituary of Bill Ridout was published in The Greenwood Tree in 2012 and can be downloaded below.
This archive is the work of more than 40 years of study by Bill Ridout, started before personal computers were available, who built his archive with assistance from other conscientious and dedicated family historians: Val and Ken Andrew of Wimborne, Dorset and Maureen Ridout of Cheam, Sutton, Surrey. Bill was meticulous in double checking his computer entries against the original notes prepared by himself or by those assisting him, however he may not always have included every spelling or misspelling of 'the name' and all researchers are subject to human fallibility. Arthur George Ridout (1852-1939) was a prodigious family historian and work done by him is also included within this archive. A brief summary of the history of the name can be found here.
Description of the Project
The Somerset & Dorset Family History Society has now appointed a Curator for the Ridout/Rideout Archive (see further below) and intends actively to curate the existing Archive and to develop and augmant it to ensure that it is a valuable family history resource for Ridout/Rideouts descendents.
The SDFHS already holds a number of family trees donated to it in the Rid[e]out name; further donations of trees in the family name would be very welcome. Electronic files (PDF format) with a hard copy would be much appreciated.
The Ridout Archive has been processed by the Society, with much of the work being undertaken by Col. Iain Swinnerton, to whom we are very grateful. Now that Iain has completed his assessment of the material, the digital files are available at our Family History Centre in Sherborne where they may be consulted, in addition to the original paper archive.
Curator of the Ridout/Rideout Archive
Following the very successful first Ridout/Rideout Symposium held at our Sherborne Family History Centre on Saturday 15 August 2015, one of the speakers, Karen Francis, has agreed to become the Archivist for the material bequeathed to the Society by Bill Ridout and made available thanks to the most generous donation from Orlando Ridout IV.

Karen is herself a Ridout descendant, has her own website: http://the-ridouts.com/ and is the author of The Ridouts of Sherborne so is eminently suitable to maintain and augment the Society's Ridout/Rideout holdings. Karen has described on our blog how she wrote up her own family history material for publication. She will curate the archive and help researchers who wish to consult the documents in the Archive which are held in both paper and digital versions, while continuing to prepare and verify material for online publication.

Any enquiries about Ridout/Ridout families should be sent to our Family History Centre for Karen's attention e-mail. Postal address and phone number can be found on the Home Page.