The 1642 Protestation Returns
Posted on 10th September 2020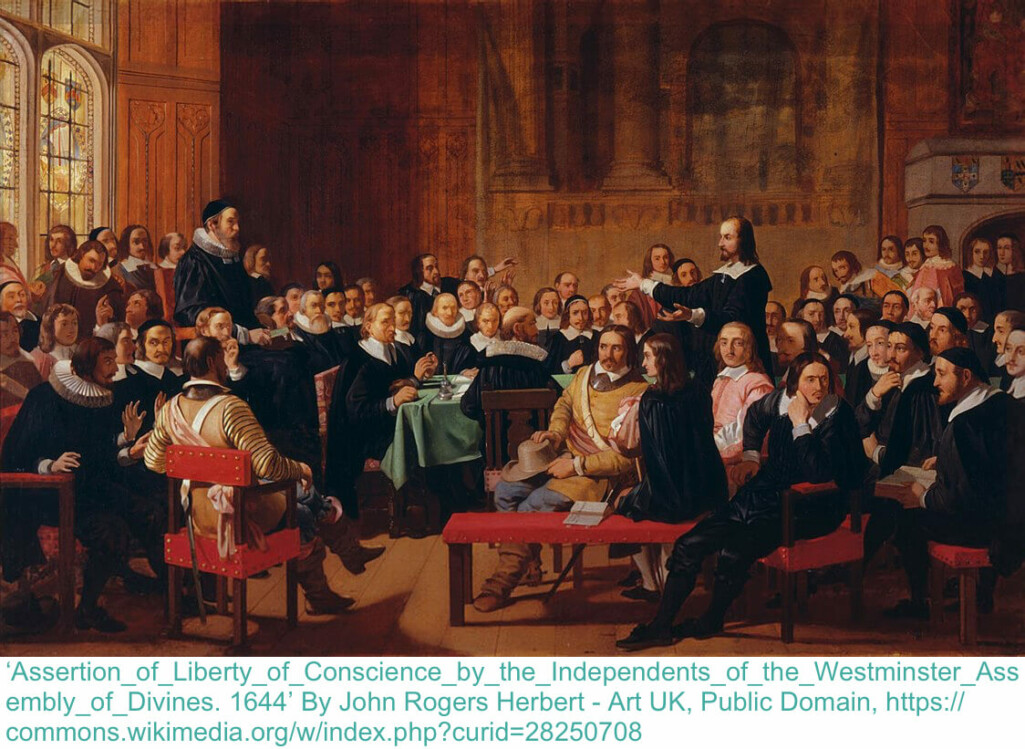 One of the things I thought I could usefully do during lockdown was to transcribe some of the wills and other old documents that I'd collected over the past few years. I'd never made much progress with this as I'd found most of them unreadable; partly because they were often in Latin but mainly because of the early English scripts in which they were written. Despite having attended excellent workshops led by the SDFHS Secretary, Ted Udall, on 'Reading Old Documents', I hadn't put any effort into practising afterwards what I had been taught and so my ability to read old handwriting was extremely limited. Having more time on my hands while we were all stuck at home, I thought that maybe I should try to acquire what would be a very useful skill.
I decided to start with some seventeenth century wills of my Cole/Cowell family, including a 1668 will administration document of my 10xGreat Uncle, Henry Cowell, but could read little beyond a few words. I then remembered that I had found Henry in the 1642 Protestation Return for his (and my) home parish of Millom in Cumberland and looking at that again, I decided that transcribing what is essentially a list of proper names would give me practice at reading seventeenth century writing. Since there was at the time a limited range of first names and the local surnames would be familiar to me, I hoped that this would be a relatively painless way of teaching myself the various forms of letters and common abbreviations, and I could then use this knowledge to read other documents. With the aid of notes I had taken during Ted's workshops and additional online resources, I've now managed to transcribe almost all of the names on the Return for Millom and have a much better 'feel' for the families who lived there in the seventeenth century. In addition to Henry, I have found several others who may be in my family tree, but they require more work to confirm their identities.
So, what were these incredibly useful Protestation Returns? In May 1641, as England was slipping into the Civil War, Parliament decreed that all men over the age of 18 should swear an oath of allegiance to the Protestant faith. Anyone who didn't do so would be assumed to be a Catholic and would be ineligible to hold public office. The order to carry this out was sent to local sheriffs and it seems that, in most places, names were collected on Sundays when people left church after services. Since church attendance was compulsory at the time, this would in theory, collect the names of all Protestant men. Members of Parliament and Peers took the oath in 1641 but it wasn't until January 1642 that Parliament made the taking of the oath compulsory for all men over the age of 18 so it was in the spring of 1642 that most of the lists of names were collected and returned to London.
Not all the Returns have survived but those that have are stored in the Archives of the Houses of Parliament and PDF scans can be viewed on-screen or downloaded (no charge) from the website: https://archives.parliament.uk/research-guides/family-history/protestation-returns-for-family-history/ Search first on 'Protestation Returns' and you get 2,942 results in a seemingly random order. Then click on 'Advanced' search and put the county you want into the 'Main Title Text' field and you will still get 2,942 results but your county's Returns will come first. There is another field for 'Town' which will work if the town/parish still has the same name and it occurs in the file's title.
At the top of the first page of any Return is a heading along the lines of this one from the parish of Cothelstone in Somerset:
All the parishioners of Cothileston (that were thereunto required) have taken the protestation the 6th of March anno D[omi]ni 1641 whose names are here under written.
In the seventeenth century the year began on 25 March so '6th March 1641′ is towards the end of 1641 and is 6 March 1642 in our calendar.

Although Parliament only asked for the names of men aged over 18, in some Returns you will also find women, either listed individually (probably single women or widows) or as, for example, 'et uxor' (and wife) or 'et mater' (and mother).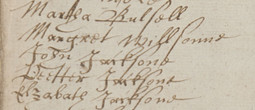 Most Returns have the names written in one hand, so any list made at the Church door must have been copied out neatly later by a clerk. Sometimes names are in different hands suggesting that individuals signed the list themselves or, since relatively few people could read and write, had someone else write their name and they added their 'mark'.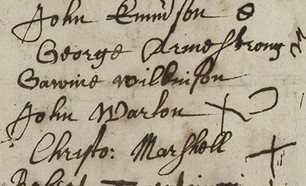 A list of the local officials responsible for compiling the list is usually at the end, though it can appear elsewhere. These could include the Curate, Overseers of the Poor, Churchwardens and Constables.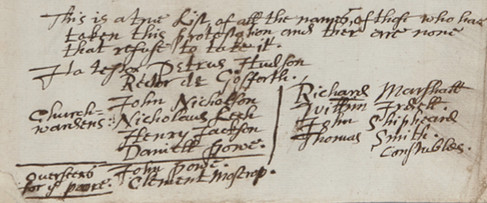 Occasionally there are notes explaining why someone is not on the list; they may have been absent from the area, or been unable to attend Church because of old age or sickness. The Return for Millom has a note beside one name which has then been crossed out and which I haven't yet managed to decipher, but it ends in the word 'blind'; presumably it provides an explanation as to why a man wasn't able to attend Church and take the oath.
To return to the man who started me on this journey, the name of my 10x Great Uncle Henry Cowell on the Return for Millom reads: "Henery Couell et uxor his wife a papist recusant".

The fact that his wife is listed 'et uxor' would imply that she was at Church on the day of the Protestation and added to the list with her husband, but then someone has annotated the list (in a different hand) to say that she was 'a papist', then crossed this out and replaced it with 'recusant'; someone who, after the Reformation, remained loyal to the Catholic Church and refused to attend Protestant services.
If you have traced any family lines back to the seventeenth century, it is well worth having a look at the Protestation Returns to see if you can find any names you recognise in your ancestral towns or villages. You may not be able at the moment to link them with certainty to anyone in your family tree, but one day in the future you might find the elusive evidence that enables you to do so.
Patricia Spencer
If you would like, please send us your comment.
Comments
20 September 2020
…On the Protestation returns, something I didn't know. May help with my own geological fault line at 1650!
Jackie James