A Family History Christmas Tree
Posted on 2nd December 2017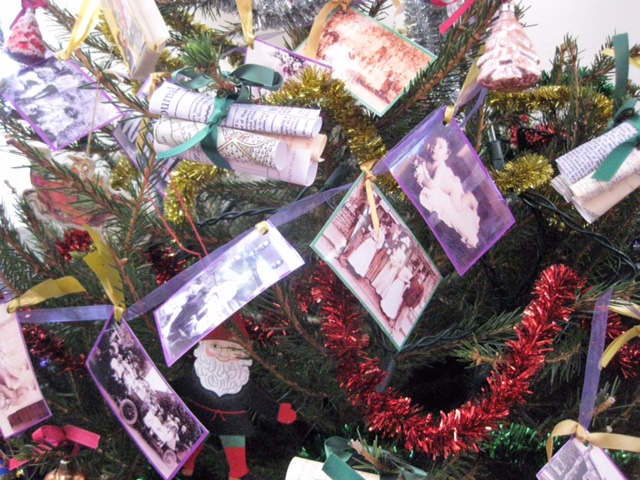 Our late friend and fellow volunteer, at the former Family History Centre in Sherborne, Eileen Holloway had signed herself up to the task of decorating a tree on a theme of family history in this year's Christmas Tree Festival, in the Cheap Street Church in Sherborne, but very sadly she died before she was able to put her ideas into practice so two of her fellow volunteers set out to complete the task in her memory. Our tree would be one of more than forty trees to be decorated and put on display, for just over a week, from Saturday 2 December. This is the thirteenth year of the festival and the themes for the decorations are chosen by each of the individual sponsors of their trees. Entrance is free to view and donations can be made to this year's charities – Friends of the Yeatman and Somerset & Dorset Air Ambulance.
Eileen set out to collect lots of old family photographs and to hang them on the tree and so this is just what we did. We decided upon a vintage look with plenty of colour. We also made some little rolls of documents to indicate how we search for old documents and we made ourselves a little sign and so we arrived to decorate our tree. We had also rustled up some 1950s baubles, from a friend, still in their Winfield box that we recognised as the trade name of long ago Woolworths.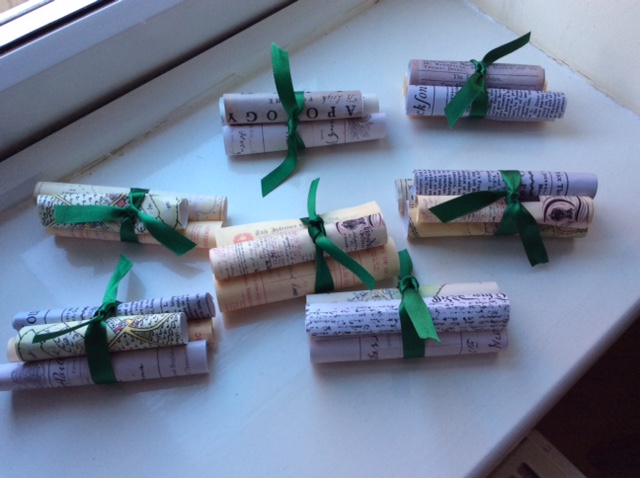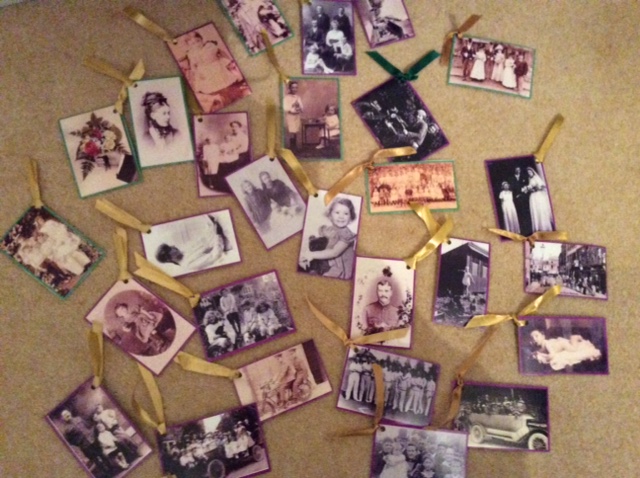 There was a lively atmosphere in the church with happy, bustling activity everywhere. We could see lots of smiling faces and Christmas carols were playing in the background. The first thing we decided was that our allotted tree looked a little askew and so we attempted to straighten it up which resulted in sudden catastrophe when our tree toppled over taking the next two with it – one of which was completely decorated! We decided Eileen would be looking down on us with her hands on her hips saying 'not a good start girls' and laughing with us. On the way there we passed a small party of children and their helpers, from Sherborne Primary School, carrying a bag of carefully prepared decorations and at one time a whole column of little ones passed through the church and we were very pleased when some of them stopped to look at the 'old photographs' we were hanging on our tree. As we stood back to admire our finished efforts and photograph our tree we became greatly concerned that it might topple over again and the rescue came from Mark, who was working on a neighbouring tree, who suggested we tied it to the loudspeaker bracket on the wall above our tree and he provided some festive string for the purpose so our tree is well anchored now and it isn't going anywhere. As Mark is also a SDFHS member he wondered if his helpful suggestion might lead to a reduction in his next three year subscription!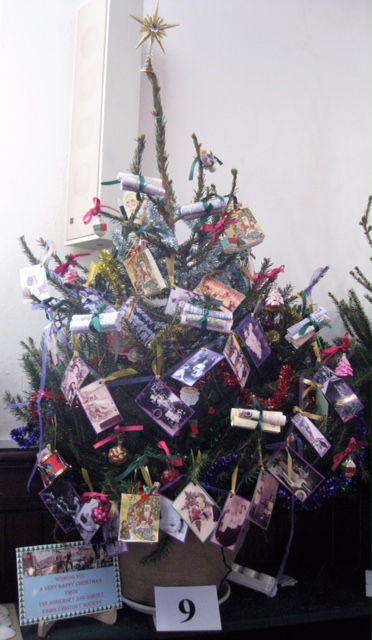 We are sure you will be looking down on your tree Eileen, and we do hope you like it and that it is up to your usual high standard of presentation.
The trees are on display from 2 to 10 December – do come in and see them if you are passing.
Cath Adam and Barbara Elsmore December 2017