A preview of the November 'Greenwood Tree'
Posted on 26th October 2013
Bob Barber, Editor of The Greenwood Tree previews the latest issue.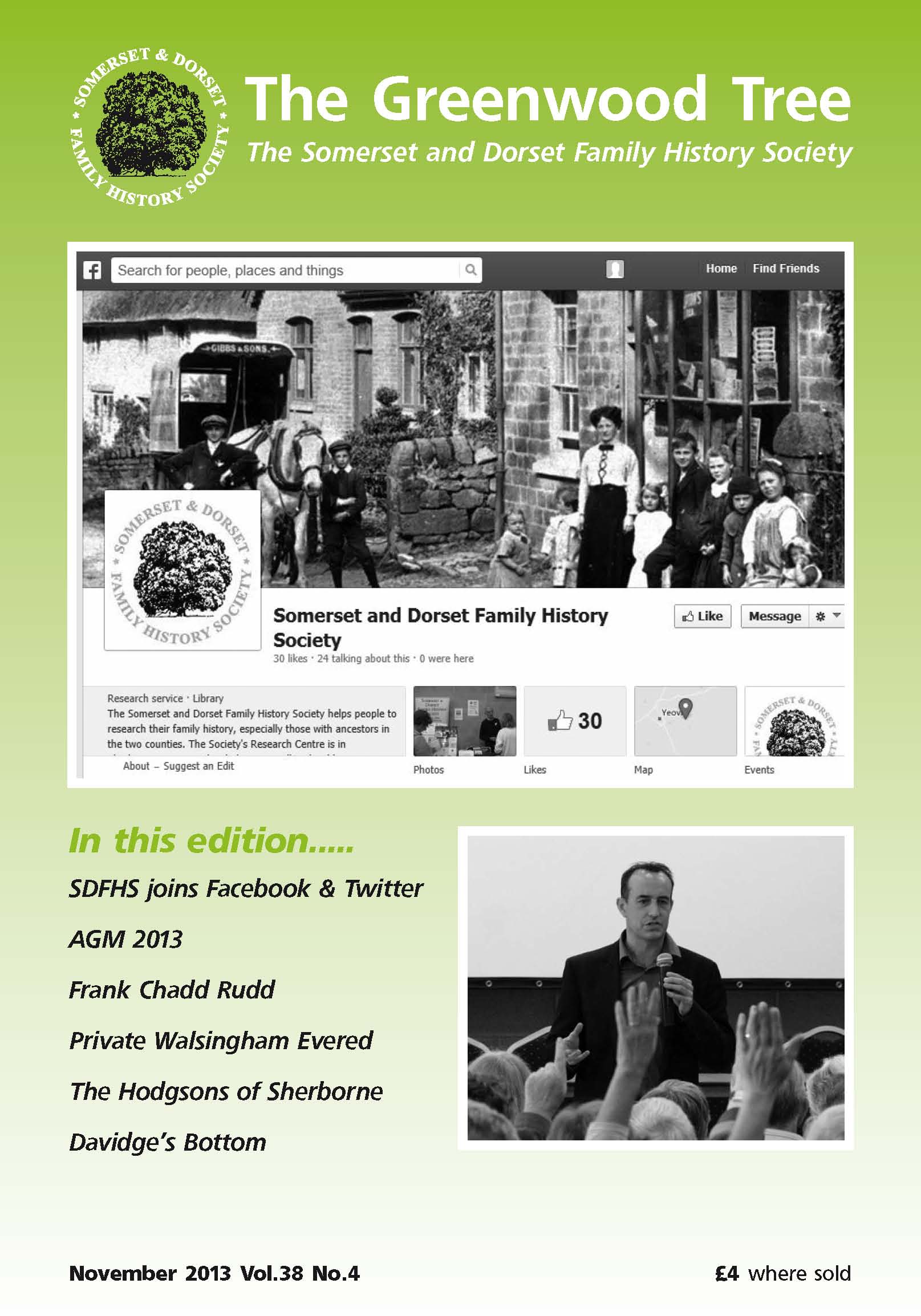 The November edition of The Greenwood Tree will be reaching members shortly. The cover features a snapshot from our Facebook page, recently set up by new website manager, Patricia Spencer. You can read more about it on the Research and Society News page at the back of the journal. The impact of social media will have important implications for family historians, and our Society. And it will certainly be a challenge to see how The Greenwood Tree is affected by these new developments
We carry reports of the recent Society AGM and Open Day at the Oak Tree Arena in Highbridge, hosted by the Sedgemoor group of the Society. A very successful meeting saw 145 people in attendance, including 12 stallholders and 20 non-members. We also had three excellent speakers, including Nick Barratt, well known from his connection with the Who Do you Think You Are? TV programmes. A photograph of Nick speaking at the Open Day is also on the cover of the journal.
A good rule of thumb when researching your family tree is to 'take no one's word for it'. Even 'facts' that appear in print can be wrong, and are often picked up and repeated, so it's always wise to check everything for yourself. Similarly we're often told that our ancestors didn't move around very much, but don't believe it. A glance at the articles in this edition of The Greenwood Tree shows connections with USA, Australia, New Zealand, South Africa and Switzerland, as well as one Somerset man who circumnavigated the globe four times. As an example, Bob Evered recounts the life of his ancestor, Walsingham Evered, who fought in the American Civil War.
Such widely dispersed ancestry means we have many overseas members, and it's pleasing to be able to publish contributions from them. Please keep them coming. Among our longer articles is one from Nancy Frey in Ontario, Canada describing her ancestors from Combe Down, an area where the famous Bath stone has been quarried since Roman times. John Templeton from Manitoba (also Canada!) has sent a couple of interesting items to think about, and Christine Headford from Auckland tells the story of Somerset ancestors who ended up in Ohio and New Zealand.
Schooldays dominate our earliest memories, not least the impact the teachers had on our experience of education. They may or may not be happy memories, but they pervade our formative years. We have two articles on men who devoted their lives to teaching. Megan Young tells the story of Frank Rudd, who was headmaster at Kingston School in Yeovil, and Michael Hanson recounts the life of Charles Hodgson, who was master at Sherborne (King's) School for nearly 40 years.
Hodgson's eldest son was killed during the First World War and another son just eight days after the Armistice. With the approach of the 95th anniversary of the end of WW1 Teresa Williams has used her What the Papers Said article to show how the war, and its impact on individual families, was reported locally. Next year we will be increasingly reminded of events that started on 4 August 1914.
Modern children seem more interested in Halloween and the joys of 'trick or treat', although many of us will remember the beginning of November as the time for Guy Fawkes and Bonfire Night. But this time was also an excuse for adults to indulge in rowdy behaviour and to subject someone to a 'skimmington ride'. Maureen Bowler, writing her first article for The Greenwood Tree, relates a 5th of November incident from that hotbed of 19th century insurrection, Symondsbury in Dorset.
So why not be inspired by Maureen and send in your family stories and make the next edition of The Greenwood Tree even better.
Bob Barber, Editor of The Greenwood Tree.