A Victorian Loo
Posted on 7th March 2021
In the March 2021 Greenwood Tree, which had a House History theme, John Damon recounted the history of Beaucroft House, Wimborne, Dorset. He now describes one indispensable part of its furniture and fittings.
Beaucroft House was built in 1876 and, as I described in the latest Greenwood Tree, it played a part in both World Wars, first as a hospital and then as a billet for American troops. In the 1950s, the house was divided into three residences. My Damon family lived in one of these, Court House, for more than 50 years.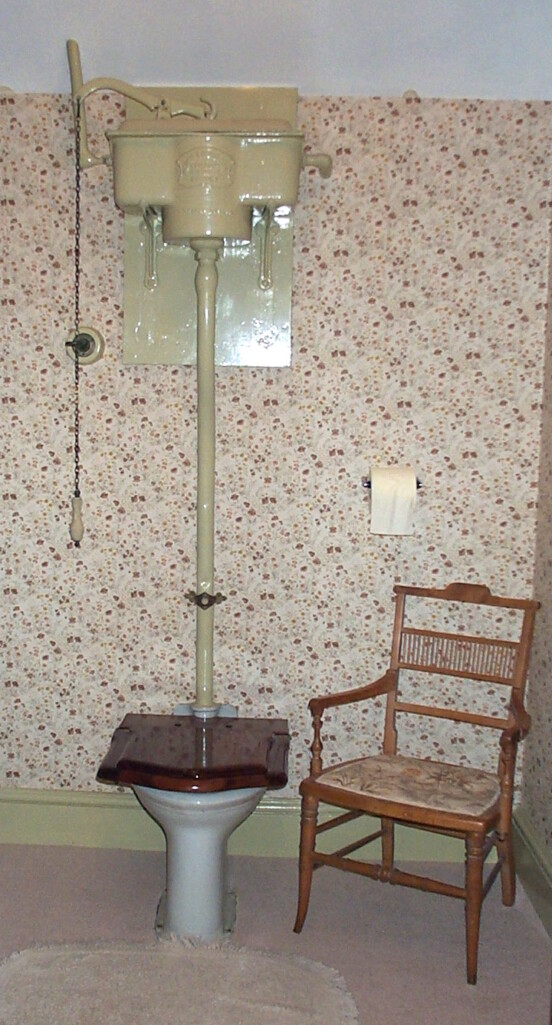 One distinctive feature of Court House was a working Victorian water closet. Engraved on the cistern it reads –"Henry Cobb & Sons Builders, Wimborne, Dorset – Shanks Levern". It had lead plumbing, a long pull chain and polished mahogany seat and lid. Pull the chain and you could hear the classic "Clank, Clonk and Whoosh" followed by a hissing sound until the cistern re-filled. Outside there was an inspection cover, also with the Cobb name. This firm conducted their business as builders, painters and at some time undertakers from their yard in West Borough, Wimborne, towards the end of the 19th century. Henry COBB was born at Witchampton, later moving to Avenue Road, Wimborne.
The loo was in daily use until we left in 2017, after some 120 years of flushing!
John Damon
04032021
If you would like, please send us your comment.
Comments
7 May 2021
Loved the photo of the Victorian loo. Interesting story.
Regards.
Jennifer Davies.
---
17 March 2021
Good Afternoon,
Ignoring scout camp latrines (another story) my first recollection of the most basic privy, was in the late 1940s when, as a small boy holidaying with my Grand Parents and staying with relatives in Chard, we visited a lady on Yarcombe Hill, on the A30 between Chard and Honiton. I asked for the loo and was directed to the privy in the garden. There was a seat but no bucket or other receptacle to catch one's offering: an open stream ran below to carry it away! If I had been a little older, I would have investigated the effectiveness of the 'system'. By comparison, the Damon's Victorian loo would have been the height of luxury and even Lem Putt's privy (The Specialist) would have been an improvement on Yarcombe.
Kind regards,
Lewis Parkyn