'Chilliswood' Connection
Posted on 15th April 2021
Your recent feature on house histories in The Greenwood Tree reminded me that amongst my grandfather's (Leonard Guy Bradfield) possessions was a set of 1913 auction particulars for 'Chilliswood', a residential estate in Trull, near Taunton in Somerset. I often wondered why he kept these and whether there was any family connection with this house.
It was a substantial estate. In its centre was a Tudor manor house dating from 1594, along with gardens and a tennis court. There was also a bailiff's dwelling house, a chapel, cottage, farm buildings and 122 acres of farmland.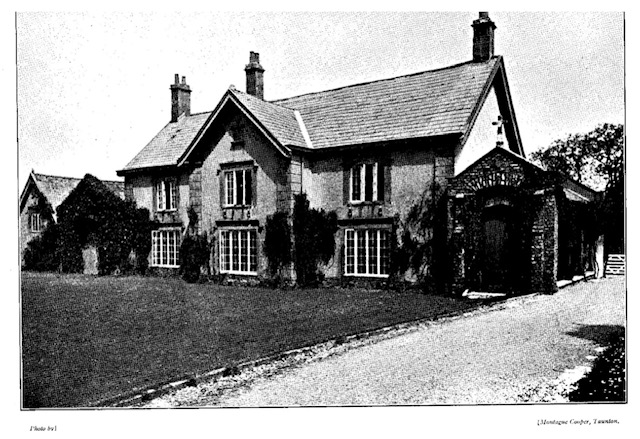 Now seemed a good time to discover more. The census records show that during the nineteenth century it was owned by the Vibart family, and then by the Shutter family. It was offered for sale by auction on Saturday 5 July 1913 by Richard Greenslade.
First of all I wanted to find out who bought it. Fortunately, Somerset Archives have a set of records relating to Chilliswood, and these included the conveyance of Chilliswood to a Mr Benjamin Hawkins in 1913. This was not a name I had previously come across during my family history research.
Whenever I come across someone new, I always have a quick search through the newspapers section on FindmyPast. I thought that someone who could afford an estate of this size, might also be worthy of an obituary in a local paper. And there he was in the Taunton Courier and Western Advertiser for November 1923. I find obituaries contain a lot of interesting information that is not easily found elsewhere. From Benjamin's I discovered that he was no longer living at Chilliswood and he died in Burnham on Sea from poor health; he was born in Devon, and spent some time in Australia, he was married but had no children. I also learned that one of his treasured possessions was an illuminated certificate presented to those who voted in the Australian Federal Constitution Referendum in 1889, signed by the then Prime Minister for Victoria. I wonder what happened to that.
So from the obituary with his date of death I was able to find his will, and then trace my way back to his birth certificate and the beginning of his story, eager to find out where it linked into my grandfather's.
Benjamin was born in 1866 in Kentisbeare in Devon. His father William was a farmer, and he and his wife Amelia (nee Morish) had three sons, Edward, Benjamin and William, and a daughter Amelia. When Benjamin's father died in 1880, his wife Amelia took over the running of the farm along with Benjamin and William, whilst Edward the eldest was apprenticed to a draper in Exeter. More of him later, as he has a key part to play in this story.
Nine years later in 1889 Benjamin left England for Melbourne, Australia. For the next six years, this was his home, where from what I can gather he spent time gold-prospecting and farming in Victoria.
Meanwhile back in England, his older brother Edward met and married Charlotte Guy in 1893. She was working as a barmaid in the family pub, the Exchange Inn in Puritan, Somerset. This is where my grandfather's connection with the Hawkins family begins, because Charlotte's sister Amelia Guy, was his mother and my great-grandmother.
But there is a closer connection with Benjamin than that. Two years after Edward's marriage, Benjamin returned to the family farm in Kentisbeare. And at some stage he was introduced to the Guy family through his brother Edward, because in 1896 he married Ethel Katherine Guy. She was Charlotte and Amelia's younger sister and my grandfather's aunt.
In the photograph below (taken around the late 1920s) Ethel is on the left, in the middle is her mother Charlotte, and on the right her sister Charlotte, who was married to Benjamin's brother Edward.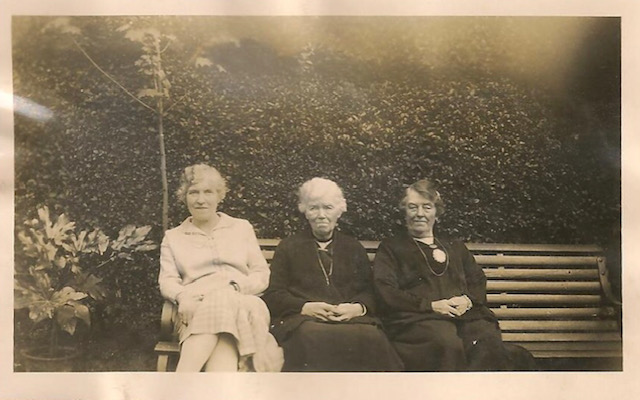 After they were married Benjamin and Ethel immediately returned to Melbourne, where they lived for the next fourteen years. Benjamin built a successful career in building and land operations. He was a member of the Melbourne Shooting Club and a freemason of the United Grand Lodge of Victoria.
When Benjamin's brother William died in April 1912 leaving a young family, Benjamin and Ethel returned to England for good. By this time Benjamin had made his fortune in Australia. He bought Chilliswood for just over £5,000, the equivalent of around £600,000 in today's money. Two years later he added the neighbouring farm of Castleman's Hill to his estate and then some more land in 1919.
I still don't know when he sold Chilliswood. He was still living there in 1919 but by the time of his death in 1923 he was at Ford House, in Burnham on Sea in Somerset. However, he still owned the two farms in Trull, Castleman's Hill Farm and Cox and Gilberts Farm, as well as the family farm at Kentisbeare. All these he left to his nephew (his brother William's youngest son) and namesake Benjamin, for him to inherit when he was 23. The farmhouse at Chilliswood is still there today and is a listed building but is no longer owned by the Hawkins family.
Ethel died in 1970 in Uphill, Weston super Mare, and is buried with Benjamin in Kentisbeare churchyard. Chilliswood must have been a special place for Ethel as she kept the auction papers all those years, but it's still a mystery how my grandfather came by them. In her will Ethel left a small bequest to my grandfather's sister Gladys, so it is possible that the families stayed in touch and maybe it is through Gladys that my grandfather acquired these documents. Whatever the reason I am glad to have finally discovered the connection between Chilliswood and my grandfather's family.
Hazel Rutherford
If you would like, please send us your comment.