Discoveries from a Clevedon Photograph
Posted on 13th November 2020
A portrait of a couple in a farmyard, with the photographer's name given as Sydney Shaw of Alexandra Road, Clevedon. This was a 'cabinet card' photograph that my colleague Allan Collier had acquired several years ago, as part of our project on the photographers of Somerset, and published by the Society in 2018 as "Secure the shadow : Somerset photographers, 1839-1939." Based on the format of the photograph, and the style of dress being worn, we estimated this to be somewhere about 1895, and set about trying to discover more on this and other Clevedon photographs.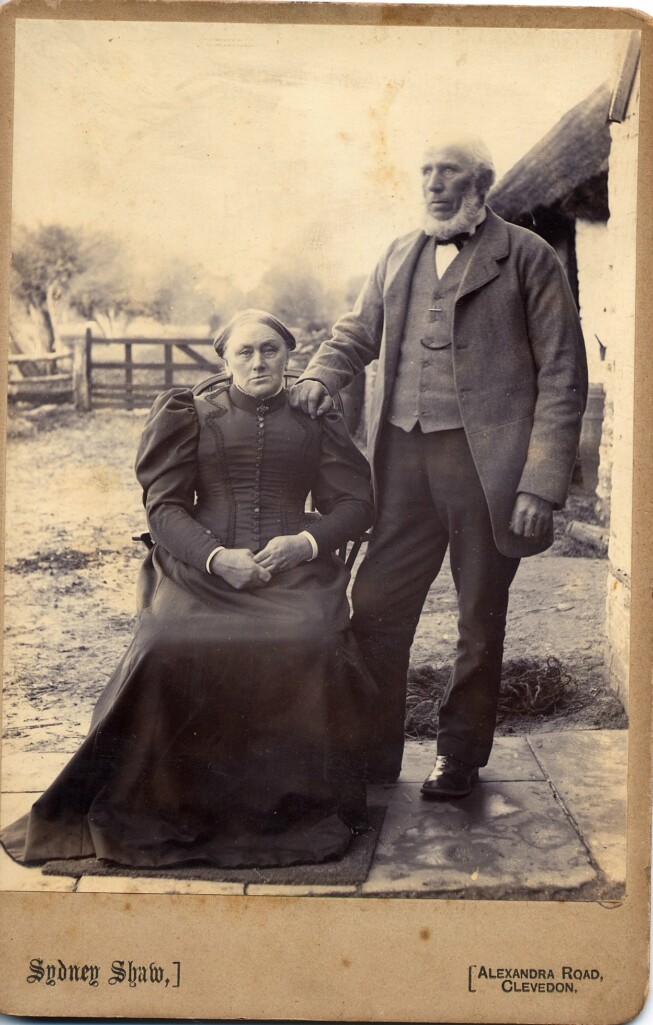 The Clevedon Civic Society put me in touch with a superb local historian Jane Lilly. It turned out that Jane had other versions of this photograph, and she could identify the couple as William and Sophia Stuckey. Jane suggested that the photograph was likely to have been taken to mark William and Sophia's move to Tutton Farm, just off Kenn Road, Clevedon. Although we initially thought they moved there in about 1892, the move couldn't have been before the summer of 1896 – the previous tenant was advertising for help with farmhouse duties that year (Bristol Mercury, 5 May 1896). William would then have been aged 64, and Sophia 65, and all but one of their eight children had left home by this stage. They remained at Tutton Farm for the rest of their lives – Sophia died in 1911, aged 80, and William in 1920, aged 88. [Note : Tutton Farm and the surrounding area has been extensively redeveloped, and the site is just a few yards west of Yeo Moor School, as seen on that excellent website "Know your place" http://www.kypwest.org.uk/]. It was only while looking again at this photograph, that I remembered that there were members of the Stuckey family in my own family tree and, having checked, it turns out that William Stuckey's aunt Sarah Stuckey (nee Young) (1821-1864) was a cousin of my great-grandfather, James Coombs Young (1824-1884) of Cleeve. Not only that but another great-grandfather, William Burdge (1834-1926) of Yatton, attended William Stuckey's funeral in 1920 and was described as "a lifelong friend" (Western Daily Press, 18 October 1920).
A further search has helped to identify the photographer Sydney Shaw, who I now think was Sydney Henry Shaw (1871-1952). This was prompted by finding that a photographer of this name had, on 19 August 1896, registered a "photograph of an old lady, Mrs Burfoot, aged 103." Sydney Shaw's address was given as 'Edgecliff,' Marine Parade, Clevedon. Although Sydney Shaw's name didn't appear in the weekly visitor lists printed in the Weston-super-Mare Gazette, these lists showed that a Miss Shaw had stayed at Edgecliffe from 1st August to 26th September 1896. Other sources led the search to Sydney Henry Shaw, who set up a photographic studio in Hastings in May 1896, and was living there in 1901. The census detail led on to the record of Sydney's marriage in 1898 to an Elizabeth Burgess, quite possibly one of the other guests at Edgecliff in 1896 – Miss Burgess had stayed there from 8th August to 5th September, at the same time as both Miss Shaw and presumably Sydney Shaw. This led to the conclusion that Sydney Shaw took these photographs on a visit to Clevedon in summer 1896. The address on the photograph of Alexandra Road also leads to another theory that Sydney was granted use of a studio recently set up there by a local photographer Lessey Beard – and it's possible that the Shaw and Beard families knew each other, as both fathers were retired civil servants.
If the account of discovering a relationship to the subject of a photograph in our book sounds somewhat familiar, well, it's happened to me before, and on that occasion, just like this one, it related to a Clevedon photograph.
If you would like, please send us your comment.
---
Comments
13 November 2020
Well done Phil – wonderful detective work! How rewarding for you and thank you for sharing this.
— Michael Pitfield
13 November 2020
I have just read with interest the story of William and Sophia Stuckey.
How surprising it must have been to find they are part of your family tree.
Congratulations on a very thorough research programme.
— Jennifer Davies.
Taunton.
13 November 2020
What great detective work, that's what makes family history so interesting.
— Helen Doble