Dorset's Poldark?
Posted on 11th December 2020
The Captain Poldark of Winston Graham's novels and the television series is well-known to many. He was not though the only such military officer to have exciting adventures at the time of the Napoleonic Wars and afterwards. Dorset too had such a hero.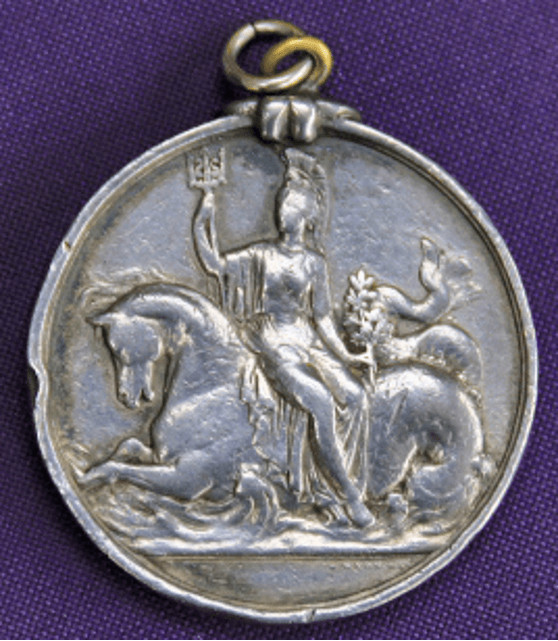 Joseph Edward Chilcott PITFIELD was baptised in 1788 in Buckland Ripers, the eldest son son of Joseph Pitfield and Mary SLADE, part of his name was in honour of his paternal grandmother Anne CHILCOTT. His branch of the Pitfield family were significant landowners in the Symondsbury area with complex links to other local landowning families such as SYMONDS, UDAL, POPE and ROPER.
With the Napoleonic wars raging, Joseph like many young gentlemen of his time was attracted to a career in the Royal Navy. He was doubtless helped in this by his family's connections with the Dorset family of Thomas Masterman HARDY, the companion of NELSON.
Joseph joined the Royal Navy in 1807, two years after the Battle of Trafalgar but at a time when England was still at war against Napoleon. Joseph's first posting was as Master's Mate aboard HMS Prosperine, a 32 gun frigate under the command of Captain Charles OTTER. At the beginning of 1809 Prosperine was stationed off the port of Toulon in the Mediterranean, to watch the movements of the French fleet. On the 27th February the two 40 gun frigates Penelope and Pauline sailed out to chase Prosperine away. In the early hours of 28th February 1809 there was a brief engagement in which the Prosperine had two men killed and ten wounded before she surrendered to the French frigates and her crew taken prisoner.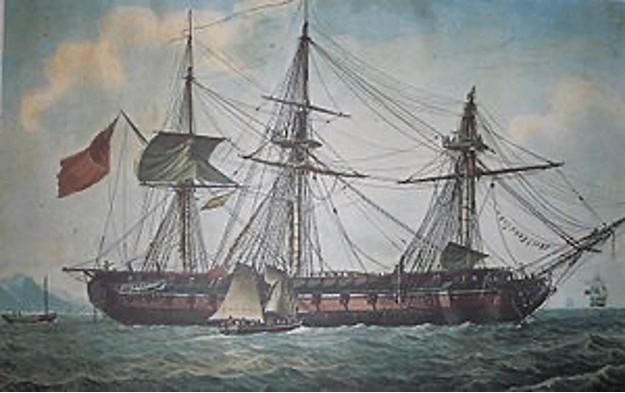 Joseph was held prisoner at the French fort at Verdun, where all naval officers were held, together with English citizens from all parts of France who had been detained at the outbreak of war, known as détenus. The gentlemen prisoners were not kept closely confined and were able to take lodgings in the town. They could also come and go as they pleased and take walks in the country of up to three miles away, if they had obtained a permit to do so. Officers were held under parole and gave their word not to escape and were paid a "wage" by their captors.
There were a number of escapes from Verdun, but it was a risky endeavour as recaptured escapees would be sent to prisons elsewhere, where conditions were far harsher.
Joseph remained a prisoner until he made his escape on the 21st December 1810, along with another Masters Mate by the name of David LITTLEJOHN, of HMS Shannon. Littlejohn is listed as having died sometime after the escape. Unfortunately, we have been unable to find out any details of how Joseph managed to make his way back to England. One favoured route of escape was to make it across the border to Austria from where the escapee could make their way to England. Joseph must have made a fairly speeding return because on 9th March 1811, just two and half months after leaving Verdun, he joined HMS Boyne, under Captain HANCHETT. His naval record shows he was discharged from HMS Proserpine the previous day – after serving for 3 years 4 months 1 week and 3 days. There is no mention of him being a prisoner of the French for about half of this period.
After returning to England Joseph served as Master's Mate aboard the ships Boyne, Ville de Paris, and Impregnable, in the English Channel until 1815. In November 1815 he was promoted to the rank of Lieutenant and was appointed to HMS Superb.
With the advent of peace in Europe (1815) attention was focused on the need to subdue minor disruptive elements in the commercial and social life of the nations In particular the piratical attacks of the Barbary states in North Africa were felt to be a source of considerable annoyance and mounting frustration.
These pirates had long attacked shipping and also raided coastal villages in Britain and elsewhere. Some Society members may have ancestors who were captured and taken into slavery; certainly there are cases of people from Lyme Regis being enslaved.
As the leading naval power, Britain with the United States and other countries formed a coalition to procure the abolition of Christian slavery. In August 1816 a squadron of ships led by Lord EXMOUTH approached the Barbar capital Algiers and demanded the Dey (ruler) capitulate. When he he refused so the city was bombarded from the sea. Joseph was present on board the Superb and particiated heroically in the battle. The Superb had 8 men killed and 84 wounded. Eventually the Dey surrendered, white slaves were freed and reparations paid. The piracy ceased once and for all.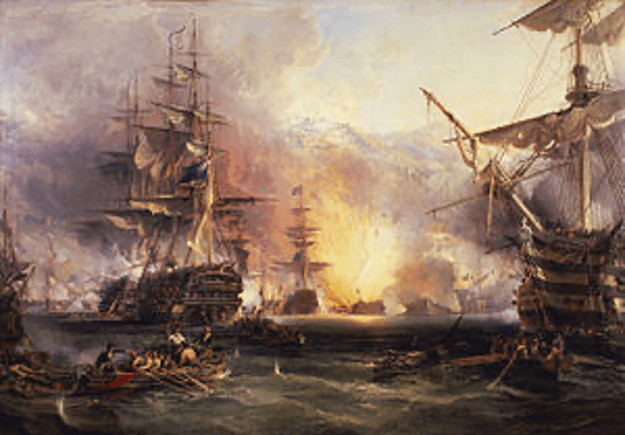 Joseph continued serving aboard HMS Superb in the Mediterranean until paid off in October 1818. His last appointment was in December 1820 aboard HMS Grasshopper at Portsmouth and Newfoundland, where he served for about twelve months. Joseph did not receive any further naval commissions and returned to Symondsbury where he continued to receive a Lieutenant's half pay from the Admiralty. In 1827 he married Amelia STONE neé PERHAM of Bothenhampton. In 1838 they were left a cottage called 'Gales' in Symondsbury by Joseph's uncle John Pitfield (1770-1838) in his will. Joseph and Amelia continued living in Symondsbury. Amelia died in 1849 and Joseph died in 1858 and was buried beside John TAYLOR 'his faithful attendant' in Symondsbury churchyard.
In 1847 a Naval General Service Medal (above) was awarded to all officers and men that were serving in the navy at that time. Joseph's medal somehow ended up in an antique shop. It was bought by a lady in America, who wore for many years on a chain around her neck. In 2015 the medal passed to the lady's nephew who offered it up to anyone who might have a family connection. It is now in the possession of Hugh Pitfield. Hugh would be happy to pass it on to anyone who might have a closer relationship to Joseph.
Finally some questions for Society members
Do you have any ancestors who were prisoners of the French during the Napoleonic Wars?
Do you have any ancestors who were captured and enslaved by Barbary pirates?
Does the cottage 'Gales' in Symondsbury still exist?
Are the graves of Joseph, and John Taylor still visible in Symondsbury churchyard? If so could someone kindly send the inscriptions and take photographs please? (see comments)
Michael Pitfield and Hugh Pitfield
Sources:
'Pitfield Genealogy' by Hugh Pitfield (download at www.pitfield-family.co.uk)
'Three Dorset Captains at Trafalgar', Broadley & Bartlelot, 1906. (Letter from Hardy)
'The Depot for Prisoners of War at Norman Cross, Huntingdonshire 1796 to 1816',
Thomas Joseph Walker, 1913. (Chapter 'British Prisoners in France, Verdun. Narrative of the Rev J Hopkinson).
'Bound to the Soil – A Social History of Dorset', Barbara Kerr, 1968
'Britannia Rules – The Classic Age of Naval History 1793 -', C Northcote Parkinson, 1977.
---
If you would like, please send us your comment.
Comments
14 December 2020
Gratitude to Deborah Fox who has made a special trip to Symondsbury churchyard and has sent me photos of the graves. Sadly the inscriptions were too feint for her to read. Thanks to others too who made suggestions, especially John Damon who provided partial transcripts from the Society's records. Does anyone have (or know of) full MI Transcriptions for Symondsbury Churchyard? They are not in Liz Chater's book, nor in Dorset OPC. (There are many Pitfield graves/memorials there but it is only these two that I am looking for)
— Michael Pitfield