Lust and Litigation in 17th Century Dorset
Posted on 24th January 2021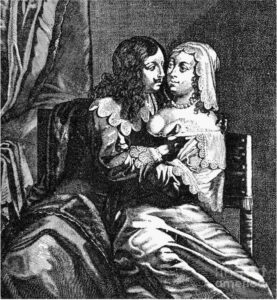 Family history research can sometimes reveal the most fascinating and unexpected results. This happened to me recently when I was researching my FULFORD ancestors. I discovered details of a lawsuit that gave startling insight into a family member.
Margaret JEWELL was born in 1665 daughter of Anne Jewell (neé Fulford). The first name of her father and the marriage details of her parents are unknown (records are scarce for the Commonwealth period). On 4th August 1685 at Sydling St Nicholas she married John SWAYNE (born 1662). They had a daughter also called Margaret, baptised 5th February 1689/90 at Broadmayne. John died on 9th February 1695/6, his widow Margaret subsequently married Francis Achym.
These then are the central dramatis personae of the story that follows – a tale that demonstrates that going to law does not always benefit the reputations of those bringing lawsuits – was has been seen in cases such as those of Oscar Wilde and Johnny Depp.
On the 12th May 1696, Margaret and her new husband (the Plaintiffs) launched a lawsuit against her brother Edmund Jewell* of Dorchester and a Henry HENNING of Poxwell (the Defendants), this was over a marriage portion that Margaret's late husband John had received. Henning was MP for Weymouth and a JP. The case was heard in Dorchester.
John Swayne had made his Will, in the presence of Edmund Jewell and Henry Henning, on the day he died, five hours before his demise. We do not know the cause of his death. In the Will, John makes Edmund and Henry executors as well a guardians of his infant daughter Margaret and gives them deeds for her benefit. It is these deeds/properties that the Plaintiffs are challenging.
Henning introduces a number of witnesses who make depositions in support of the Defendants, These include Anne Jewell, mother of Edmund and Margaret, who is thus testifying against her own daughter, and William CROMEY of Broadmayne.
Cromey paints an unfavourable picture of the Plaintiffs, saying that Achym is in debt and often absconds from bailiffs. He describes how Swayne had had a lot of problems with Margaret, she spent money liberally on other men, gave goods to Achym without her husband's knowledge and even went abroad with Achym for four months. She had an affair not only with him but also with a Dutch doctor. Further witnesses confirm all this and a Henry TIBBS adds a story of an intended duel between the Dutchman and Achym, the suitors of Margaret, which was only stopped when others intervened.
This drama is further confirmed by John GILLINGHAM who reported that Swayne would not sleep with his wife anymore because it was likely that Achym would get her pregnant and then he (Swayne) would have to keep the child.
Margaret's name is also blackened by Joseph STUDLY, a Clerk (Vicar) of Broadmayne, who declared that on the day following Swayne's burial on 11th February 1695/6, his widow had offered him £5.00 to marry her to Achym. Studly refused as he thought it was indecent.
Undeterred, three days after Swayne's burial, Margaret married Achym, the marriage being registered in Allington on 13 February. Intriguingly the marriage is also registered, with a cryptic comment, in West Knighton (near where the couple later lived) the entry reading '13 Feb 1695/6 Francis Achim, gent and Margaret Swayne married (as they say)'!
The lawsuit was lost and we hear no more of Margaret and Francis until the latter is buried on 16th January 1709/10 and the former on 30 March 1712. Both were buried at West Knighton and are described as 'of Fryer Mayne'. This was a hamlet (now lost) very near Broadmayne. I wonder if the couple regretted the lawsuit given the damage to their reputations that ensued.
There is, however much more to the story than this. It is but the tip of a VERY much larger legal iceberg. Which I will write about in a future blog – watch this space!
Question:
Can any member help me find records of Margaret Jewell's father? I can find nothing about his birth, marriage to Anne Fulford or his death. He was dead by 1674 as the Will of her brother Francis in that year describes Anne as a widow. I know that record keeping was poor during the Commonwealth.
Michael Pitfield
* I am descended from Edmund Jewell.
Sources
'The Tumultuous Achym/Fulford Relationship' by Roland Ames Hill. 2003 (222 pages) https://www.familysearch.org/library/books/records/item/255992-redirection
Somerset & Dorset N & Q Vol XI p.13
Parish Registers
History of Parliament – Henry Henning MP
If you would like, please send us your comment.
Comments
6 January 2022
> With further, more recent research and with the help of another distant 'cousin', Margaret's father is now identified and confirmed as Andrew Jewell (Juell) who died in Maiden Newton in 1664 (buried October 1664).
> It is thought that Andrew (Andreas) was born in 1626 (baptised 06 August 1626, Winkleigh, Devon). The date of his marriage to Anne Fulford continues to elude us but it must have been in early 1663/4 because Anne is described as single in her grandfather's Will of 1663. Andrew and Anne's son Edmund was born in 1663.
> Michael