Snapshots in Time (First in a series)
Posted on 14th December 2022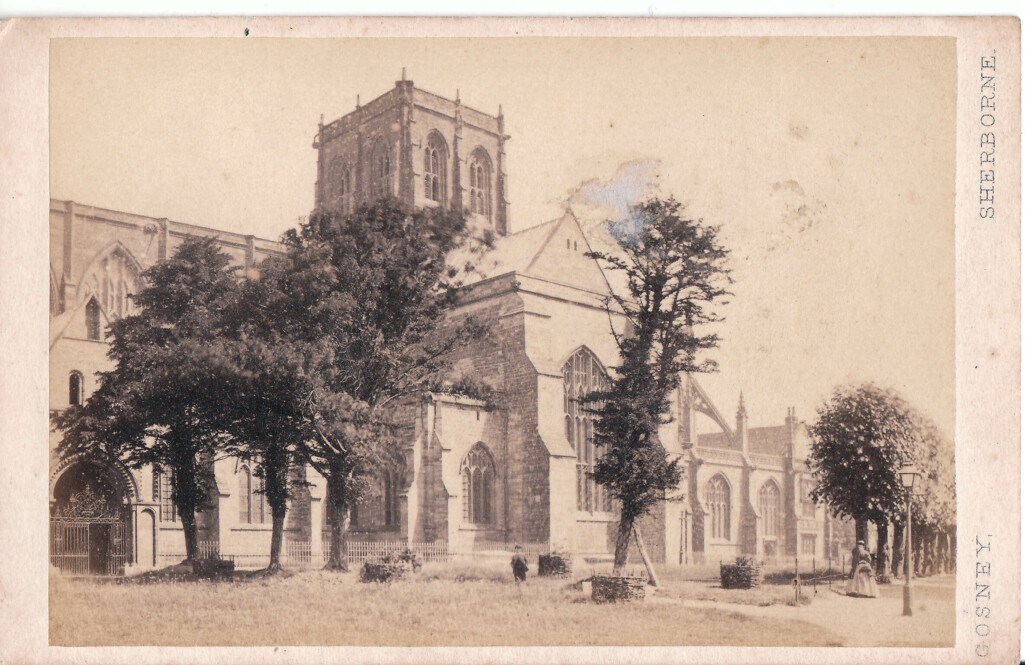 In July 2022 Rachel Hassall, Sherborne School Archivist, was invited to examine a collection of glass plate negatives and lantern slides located in the library/muniment room in Sherborne Abbey.
Rachel used a scanner to take high resolution digital images of all that was discovered, and she takes up the story: 'The majority, if not all the photographs, appear to have been taken by the Sherborne photographer Adam Gosney (1844-1921), who apparently picked up photography while working as a house servant at Sherborne School where he took photographs for the boys. By the time of the 1871 census, he had a shop and studio in Long Street (at what is now Dorset Lettings) and in 1873 he opened a shop and studio in Half Moon Street, next to the Plume of Feathers, where he operated until his death in 1921.
It seems highly likely that this collection was put together by George King (1859-1932) who was Abbey Verger, 1892-1929. George lectured on Sherborne and Sherborne Abbey and raised money for the Lady Chapel restoration scheme giving lectures, including one to the Society of Dorset Men in London. He was a frequent contributor to the Yearbook of the Society of Dorset Men. It was George King who set up the muniment room in the Abbey where he stored material of 'historical and antiquarian interest'.
Adam Gosney was baptised in Sherborne Abbey on 14 June 1844, the son of Thomas and Maria. When he married Harriet Bragg in 1867 his occupation was given as 'photographer of Bradford Abbas'. Harriet had been baptised in Bradford Abbas on 7 October 1832 and was considerably older than Adam but happily a daughter, Kate, was born, probably over the shop in Long Street, in 1870.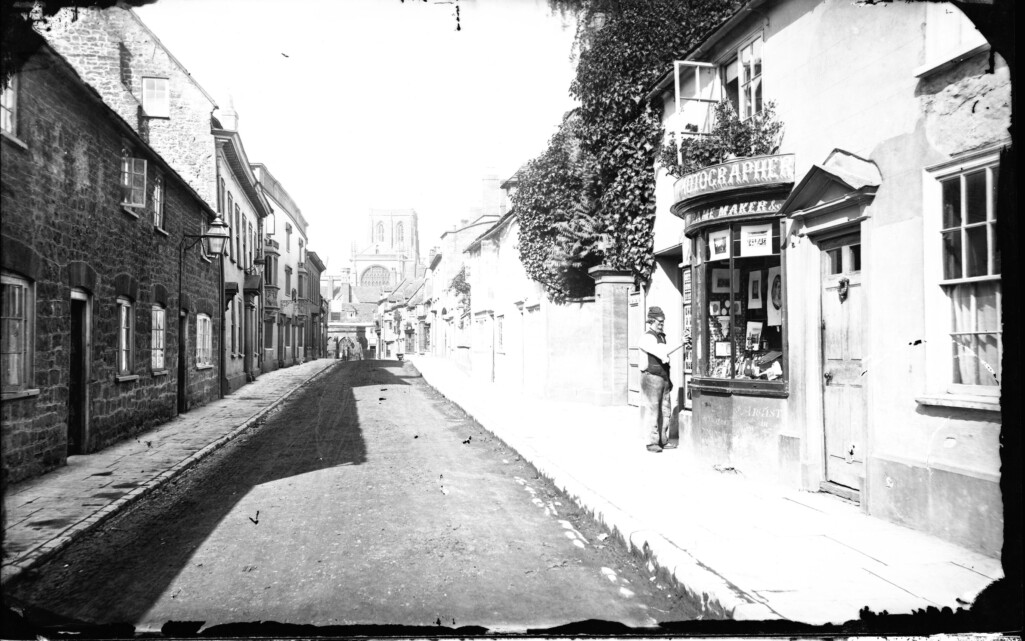 This lovely photograph looking along Long Street towards the Abbey with the photographer's studio in a prominent position at the front right would probably have been taken somewhere between 1870 and 1873. It is a sunny day and Adam has found someone to add human interest to the scene. People are a feature of so many of the older postcards.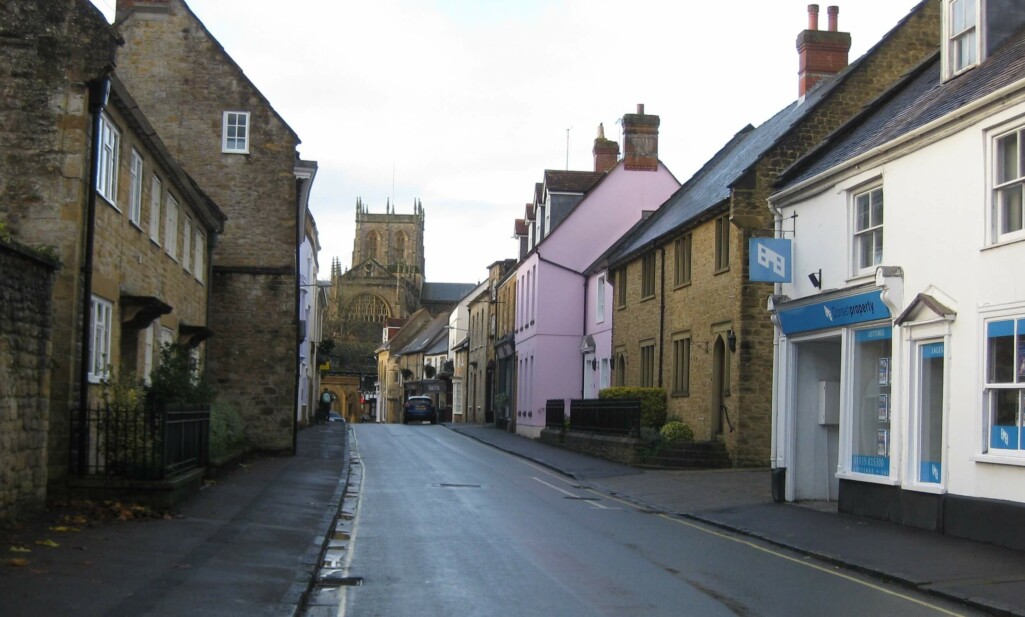 This photograph taken recently from near the same position.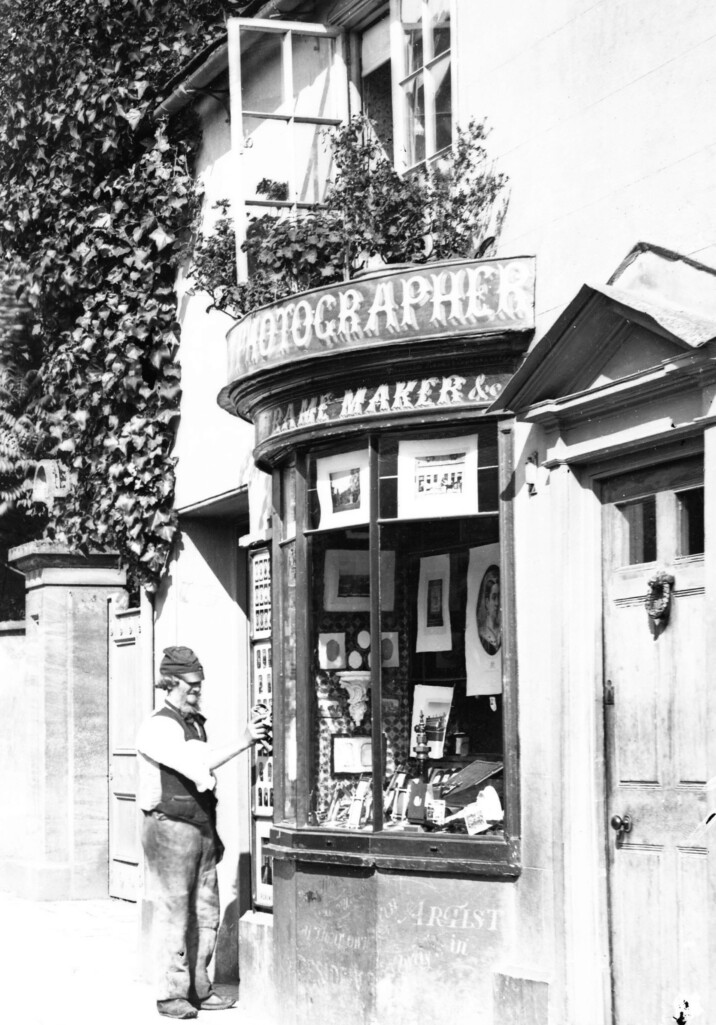 Let's have a closer look at the window and at the man shining the glass. There are framed prints of photographs by the door and the window is full of additional items for the enhancement of photographs – such as frames, stands and decorative shelves. The whole thing looks very settled and slightly overstuffed so I am wondering if this is perhaps getting towards the time when the move to the larger premises in Half Moon Street would take place. Above the rounded bay window are pots of plants with a window thrown wide to the sunshine streaming in.
The man is wearing heavy trousers and shoes with shirt sleeves rolled up under a buttoned-up waistcoat. He has a collar and bow tie and an unusual cap the likes of which I cannot find anywhere, and I am wondering if it might be from a uniform.
To me this is all especially interesting as this information on Adam, Harriet and Kate puts them all in my family tree. Harriet's younger sister Mary married my great grandfather's elder brother John Collings in Bradford Abbas parish church in May 1861. Isn't it all so very rewarding when a chance to join up some of the dots comes around – thank you Rachel.
From my own collection of family photographs, I can track some of Adam Gosney's progress. The photograph of the Abbey is very early and can be dated from around 1867 because of the design on the reverse.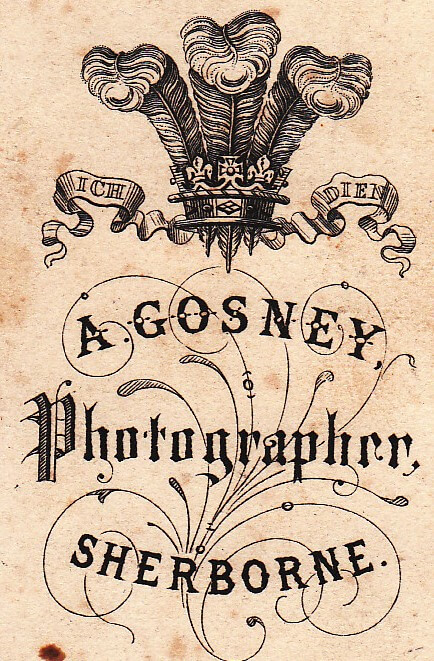 Robin Ansell and Allan Collier have been greatly helpful to me by identifying the dates of many of my local photographs – the Abbey photo being one of them. Robin and Allan are the co-authors, together with Phil Nicholls, of Secure the Shadow – Somerset photographers 1839-1939. This important publication comes with a disk tucked in at the back which contains biographical information on over 550 Somerset photographers including Adam Gosney.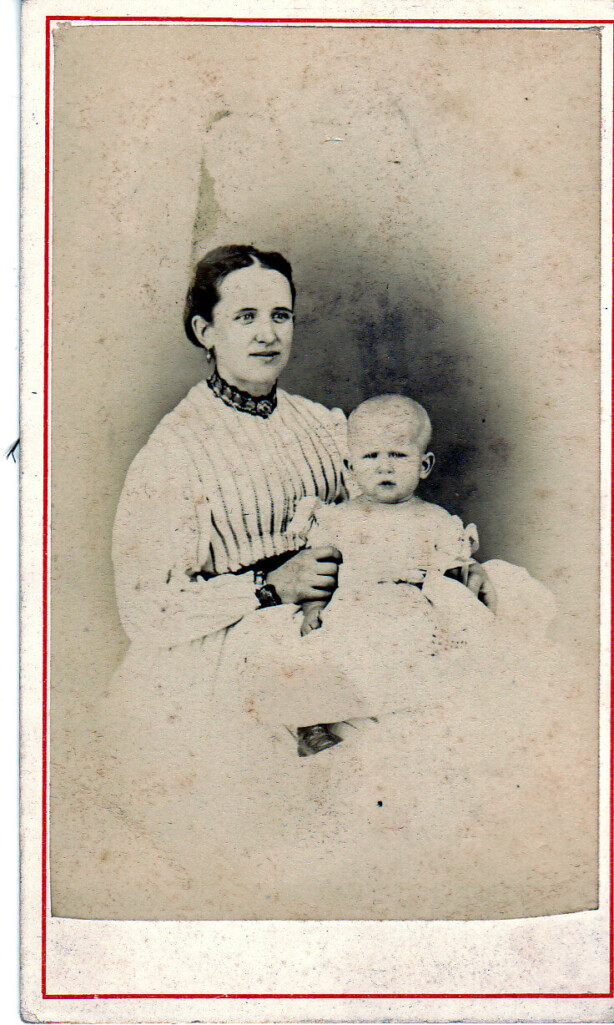 This is my great grandmother Fanny Collings with her first child Ada and it would have been taken in the late spring/early summer of 1870 in the studio in Long Street. There is no fancy back to this photo. Fanny collected photographs of family and friends and she placed them in an ornate album. All the photos that appear here came from her album.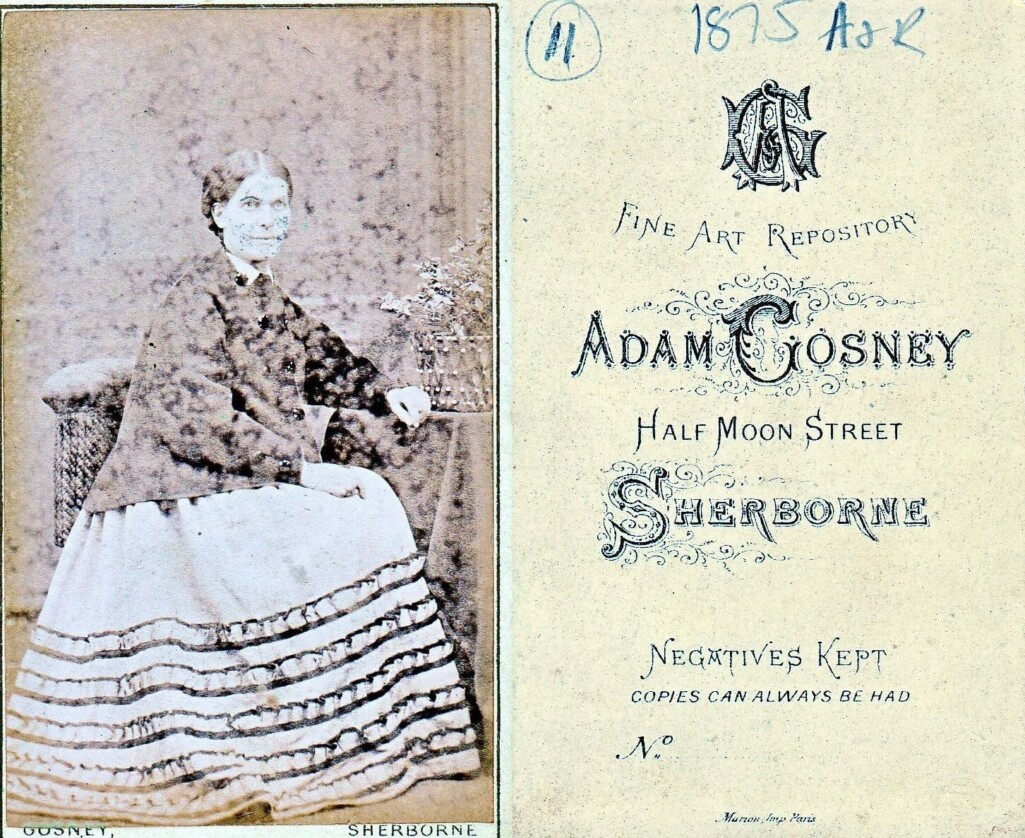 This is Fanny's mother-in-law Mary Collings. This photo was taken c1875 and the studio is now in Half Moon Street, Sherborne.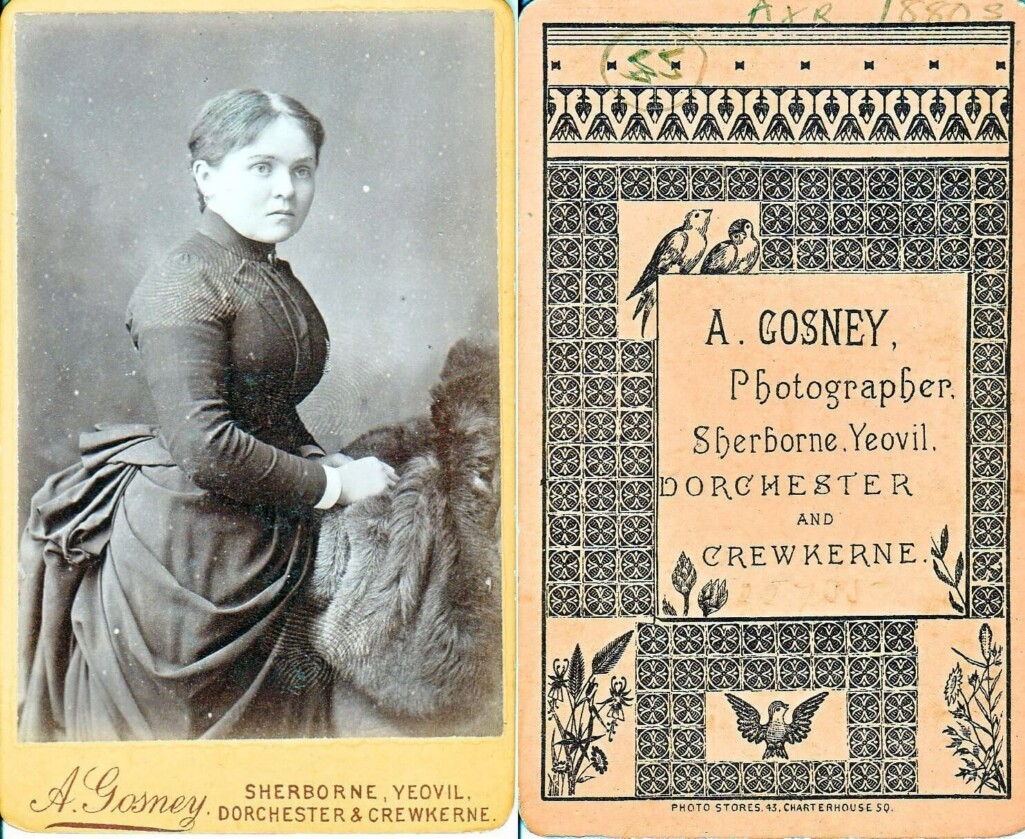 This photo taken c1880 is a relative/friend of Fanny. By now Adam Gosney has expanded into Yeovil, Dorchester and Crewkerne with the reverse of the photograph showing a very distinct design. The thing I really like about this photo is if you enlarge it, you can see what look like two distinct finger or thumb prints – did Adam Gosney leave these behind?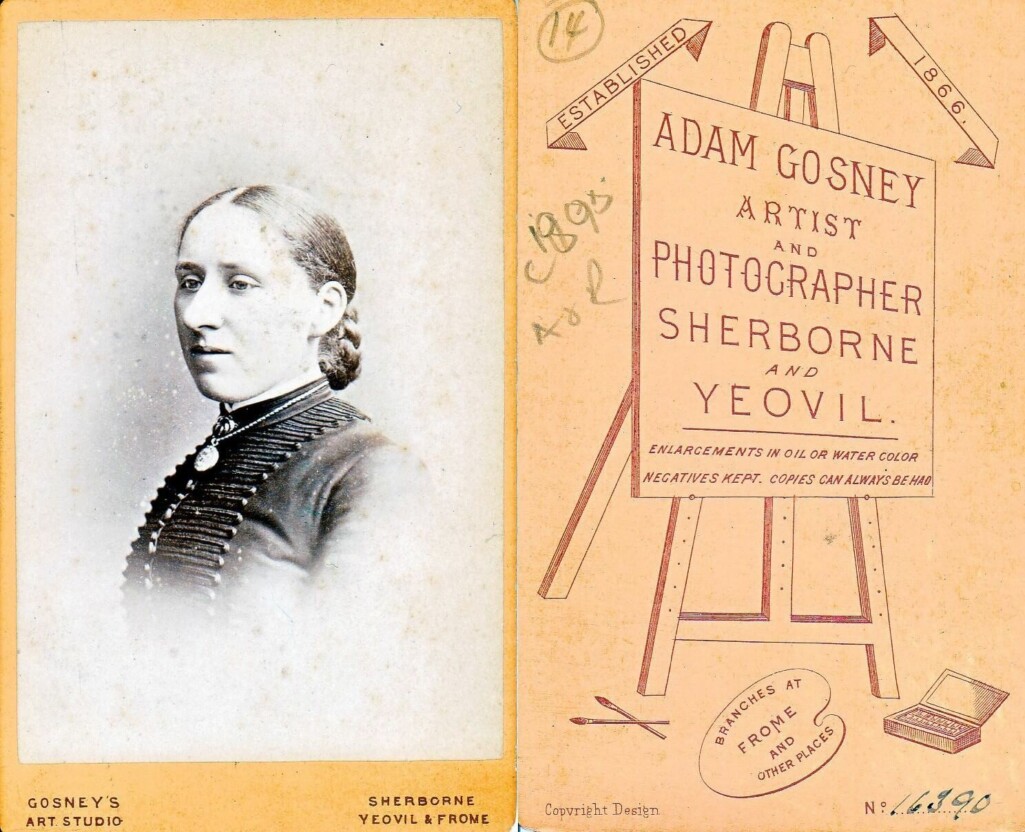 This photo taken c1895 is of another of Fanny's relatives or friends. By this time Adam is an 'Artist and Photographer' with branches in 'Yeovil, Frome and Other Places.' The whole thing is very carefully thought through and is a 'copyright design' even the writing of the number 16390 in the bottom right-hand corner is beautifully executed.
Photographs can reveal so much to us about our early relatives and knowledge of the photographer and their whereabouts at the time when the photos were taken can aid in the identification of mystery photos as Robin and Allan revealed to me.
If you would like, please send us your comment.
Comments
---
I really enjoyed the Snapshots in Time.
The cap the man is wearing looks very much like an American Civil War cap worn by the Union Army men.
Below is an example from Googling "Civil War Forage Cap"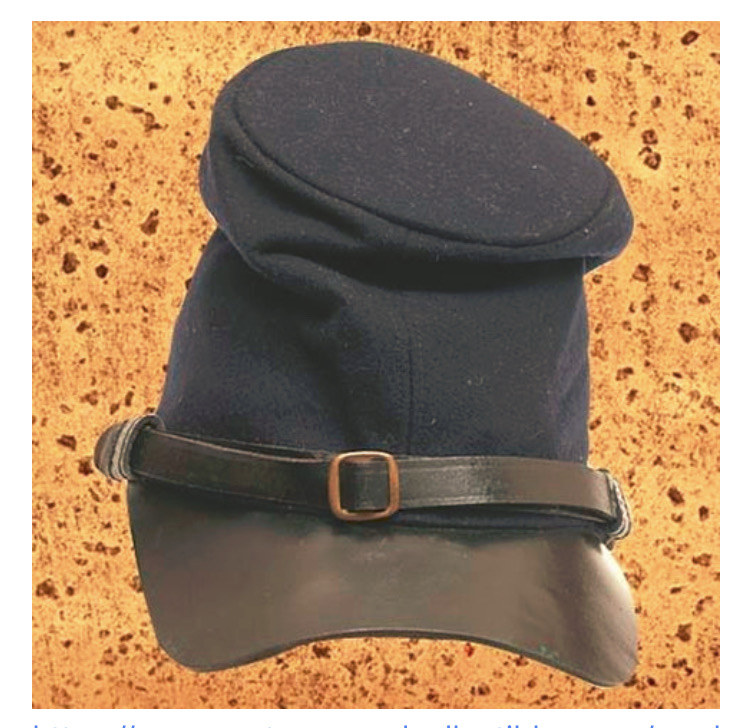 Doris Cruikshank
---
It does appear to resemble the 'kepi' of American Civil War vintage of a few years earlier. However, this type of hat was also popular in mid-Victorian Britain, as part of civilian or para-military uniform (eg post men, station Masters and members of the volunteer Force). The latter " volunteer Force" existed nationally (on a county-basis), with slight modifications, between 1859-1908. So far, I have managed to trace two volunteer units in Dorset:
The Bridport Volunteers (1st Dorset Volunteer Rifle Corps) – created 1859
The Sherborne Volunteers (7th Dorset Volunteer Rifle Corps) – created 1861
Robin Ansell
---
Congratulations on the article on Adam Gosney. I learned much about Gosney that was new to me, and the accompanying photos really add to the text – it was great seeing the one of Long Street with Gosney's first studio. My comments on the dates suggested for two of the photos :
I think that the photo of the friend of Fanny Collings, for which you suggest a date of c1880, may be a little later. The studios listed on this cdv were Sherborne, Yeovil, Dorchester and Crewkerne : Crewkerne wasn't added to Gosney's list of studios until April 1883, and Dorchester was first listed in May 1884, and then as a 'permanent' studio in September 1884. The 'Secure the shadow' image book for Gosney has an identical reverse on numbers 40 & 41, with a PhotoStores card. So, instead of c1880, I would suggest 1884-85
on the last photo in your article, another portrait of a woman, a date is suggested of c1895. However, I think this is more than a decade earlier. The text on the front and back of this is identical to the cdv no 28/29 in the Gosney image book in 'Secure the shadow'. These have the studios listed as Sherborne and Yeovil, with branches at Frome and other places. Gosney advertised his Frome studio, initially probably a mobile studio, from 29 September 1882 to April 1883. So, I would suggest this cdv dates from before both the studios at Crewkerne and Dorchester, the former which, as noted above, was first listed in 1883. Neither Crewkerne nor Dorchester is shown on this cdv. The serial number of your cdv (16390) is very likely to be in the same sequence as the 'Secure the shadow' cdv 28/29 in the Gosney image book, i.e. 17014. So, instead of c1895, I would suggest 1882-83.
My view is that the names and addresses of studios – especially in the case of Adam Gosney – are often very important as clues to the date of a photograph. That was one of the underlying principles of 'Secure the shadow
Phil Nichols
---
I would like to thank everyone for such very helpful comments.
Barbara Elsmore