'The Greenwood Tree' 1975-2015 – now available as PDFs
Posted on 16th August 2015
All editions published to date of the SDFHS award-winning journal The Greenwood Tree are now digitally available in fully-searchable PDFs, as the Editor, Bob Barber, explains.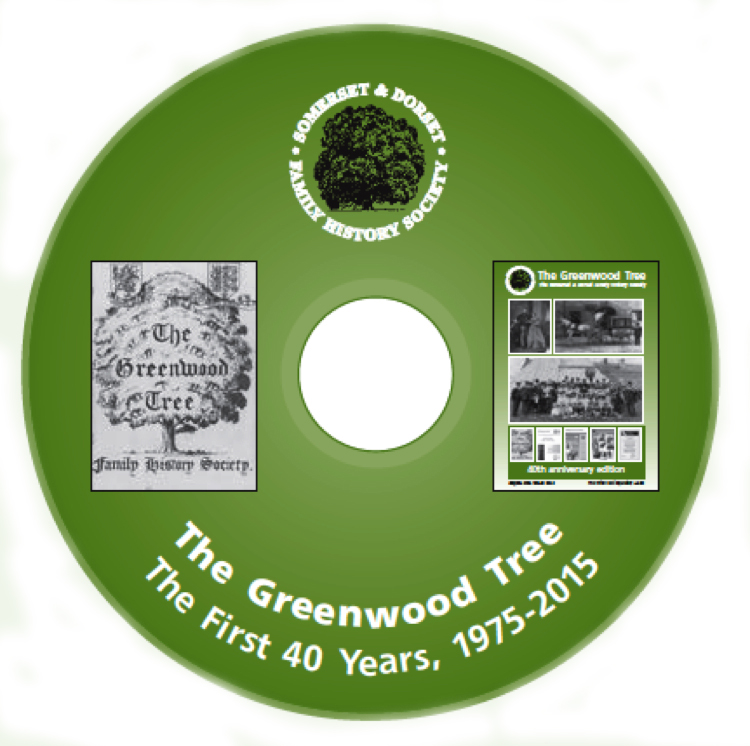 In the August edition of The Greenwood Tree we announced that we are making available for sale the set of 40 years of the journal in digital format, as PDF files. The digitised set covers the years 1975-2015, up to and including the August 2015 edition. The November 2015 Greenwood Tree will in due course be made available for download, free of charge, on the Society's website, to complete this 40th Anniversary set.
The project has required the scanning of over 120 editions from paper copies in the Society archives in Sherborne, with the remainder supplied as digital copies by our printers. Most versions of Acrobat Reader (free download) allow both viewing and browsing of the pages, and the ability to search for text. Thus it is possible to access all editions in one search, for example for the occurrence of a particular surname, or place-name. Parts of The Greenwood Tree have been indexed in the past, and these indexes are included on the CD, although the search capability for PDFs makes indexes much less important than they used to be. The files are also viewable on devices such as iPads and Kindles.
I would particularly like to thank SDFHS volunteer Wendy Lugg for performing the major task of scanning the paper copies, and Stephen Hibberd of Aurora Print & Design Ltd for supplying the digital files of the later editions. Other thanks are due to Jen Murfitt-Barber for converting the files to searchable format, and to Barry Brock, Patricia Spencer and Gail Barber for help and assistance in setting up the scanning process.
The formal release will coincide with the Society Open Day and AGM in Yeovil on Saturday 19 September, when copies on either CD or USB flash drive (memory stick) will be available to buy. However, the CDs and memory sticks are now available and we are accepting orders. See the bookshop page of the Society website for details of how to order.
Prices:  (CD): over the counter £9.00; posted £9.85 (UK), £11.70 (OS).                   (Memory stick): over the counter £11.00; posted £12.30 (UK), £13.70 (OS)
Bob Barber
Editor, The Greenwood Tree