The Greenwood Tree February 2014
Posted on 25th January 2014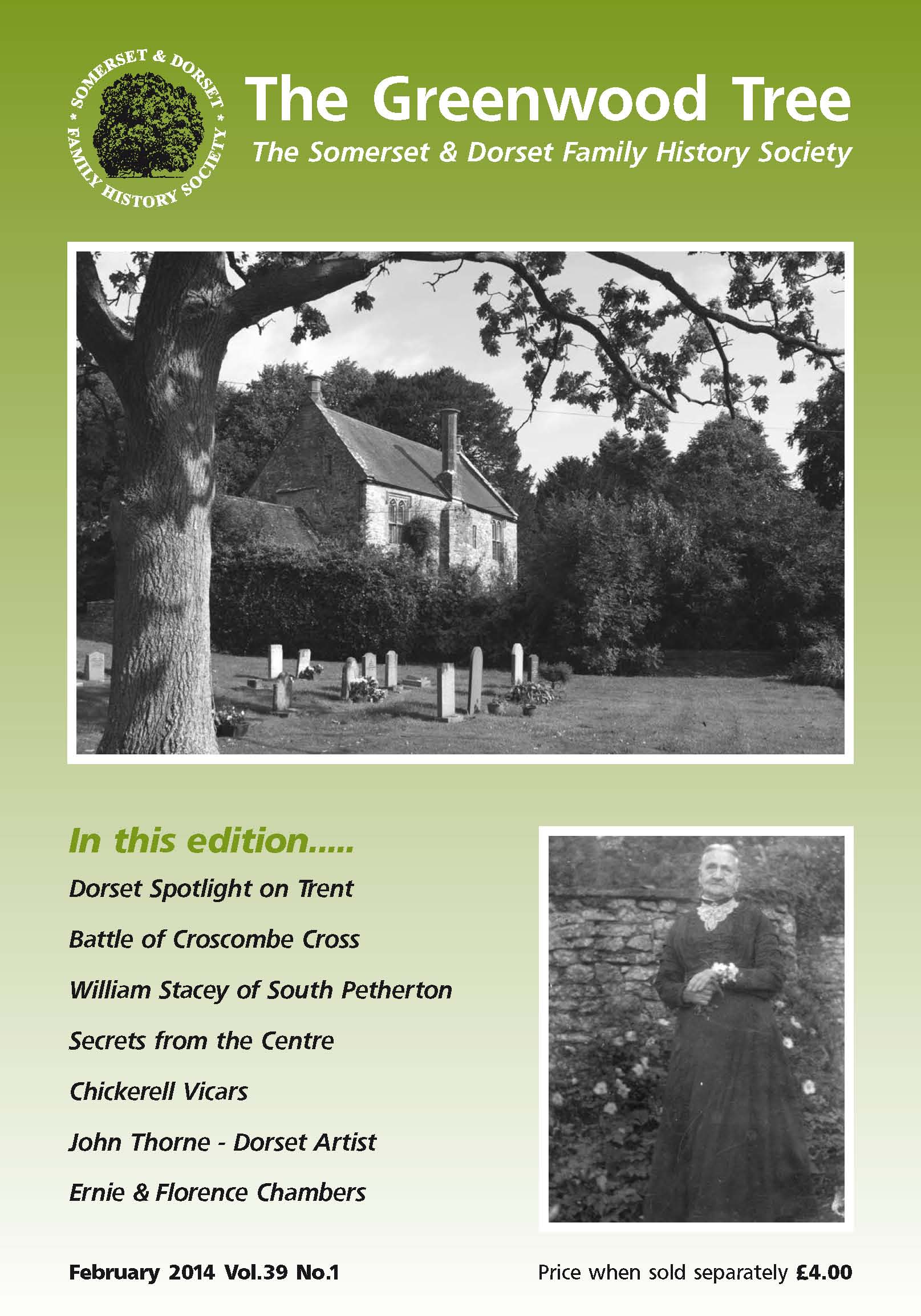 Bob Barber, Editor of the SDFHS Journal, The Greenwood Tree, gives a preview of the February 2014 issue.
Another year rolls by and we start the year with a small facelift for The Greenwood Tree, including a slight colour change and some new layouts for the yellow pages and inside covers.
We begin a new series of articles in the February 2014 edition. Colin Dean, former editor and a regular contributor, will highlight some of the rare, sometimes unique, material held in the SDFHS Research Centre in Sherborne.
We hope Secrets from the Centre will encourage more people to come along and discover what the Society has built up over the years – a testament to our band of volunteers. This time Colin features a publication by the late Stanley Castle on A History of Cocklake in Churchland. Packed with information the history concludes with a marvellous photo of the Cocklake, Crickham and Clewer harvest supper, c.1915. All 48 people who attended are named.
The Research Centre in Sherborne has assembled a programme of talks and other events to be held there during 2014, to further encourage you to visit and see what a wonderful resource the Centre is (see yellow page i and the website  for further details). In addition to all the information of interest to those with family connections in Somerset and Dorset the library holds a large amount of more general material, and the fast internet connection with access to the main genealogy website is available for all to use.
The Research Centre holds transcripts, indexes and other extracts, but researchers are always advised to look at original documents where possible, so familiarity with our two county record offices is important. The Dorset History Centre and The Somerset Heritage Centre both produce newsletters, and we include extracts and links to both of them.
Among the original articles is one by Mark Wareham on his ancestor's role in the Battle of Croscombe Cross. In the 19th century attempts were made to demolish the medieval cross in Croscombe but local opposition, including that of Mark's great-great-grandmother Harriet Say, saved the cross. Harriet certainly looks like a formidable figure.
It's always encouraging to get follow-ups to articles in The Greenwood Tree. The feature on William Dampier in November's GT elicited several responses, including one from Janet Gale in Australia giving more information and another from Chris Lawrence of the Yeovil group who mentioned the memorial to William Dampier in the church of St Michael and All Angels in East Coker.
The Rev Peter Lloyd of Poole responded to the piece about the poor state of the Chickerell parish registers with information about his clergy ancestors in Chickerell, Wyke Regis and Portesham. He included portraits of his 2x great-grandparents.
Local historian Neil Mattingly found a newspaper article which answered the mystery of the deaths of the children of the Dunn family of Charmouth mentioned in the August GT. An outbreak of scarlet fever accounted for eight children in the space of little more than a fortnight. Can we begin to imagine the grief of their parents?
Other articles feature family connections with Weymouth, Stoke Abbott, Marnhull, Stalbridge and Canford in Dorset as well as a Spotlight on Trent.
Somerset is featured in a Snapshot of Nynehead, as well as at Bridgwater, South Petherton, and North Curry (currently affected by flooding!). Bath Record Office has recently placed on-line a searchable database of prisoners' photograph assembled from the criminal fraternity in late 19th century Bath.
This issue of The Greenwood Tree will be mailed to all SDFHS members in early February. As I mentioned in an earlier post here 'Your Journal needs you' we would welcome more articles for upcoming issues, especially for our WWI 'special' in August. Please do contact me if you have an article ready for submission, or would like any guidance to prepare material for publication.
Bob Barber