The Greenwood Tree – March 2019
Posted on 22nd February 2019
The growing importance of DNA in family history is highlighted in the March edition of The Greenwood Tree which will be mailed to members at the end of February. Editor Paul Radford previews the edition, which SDFHS members can already view or download from the Members' Area of the Society's website.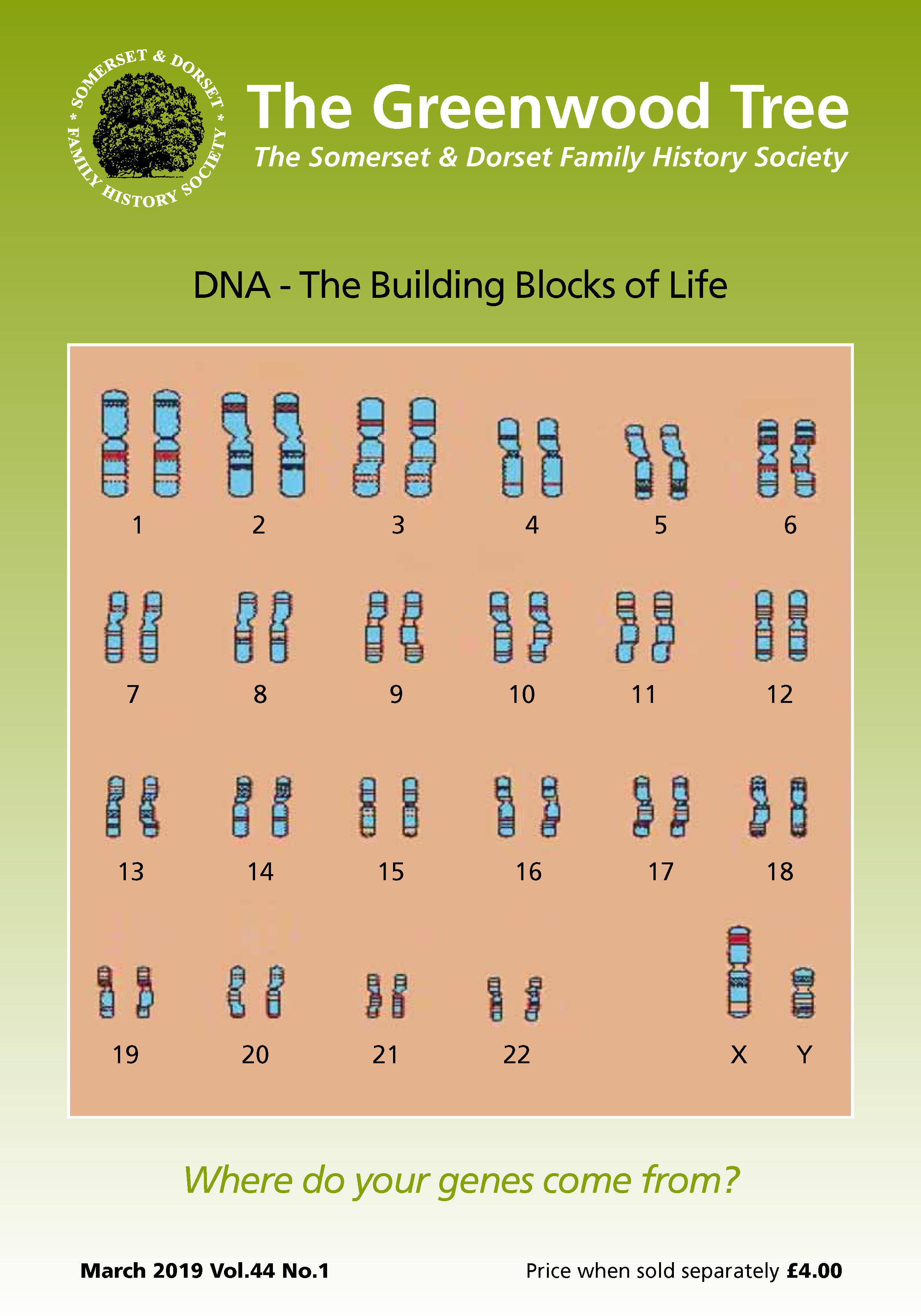 The front cover colour image shows the 23 inherited chromosomes in each cell of the human body, the building blocks of life. Inside are two main stories featuring the DNA theme. The first is a two-page interview with acknowledged expert in the field Debbie Kennett, an SDFHS member, who says you cannot be a serious genealogist if you do not use DNA testing as a resource in your research. In a wide-ranging interview, Debbie covers lots of ground, including the pros and cons of testing, what you can get out of it and which are the best companies to use if you want a test done.
The second is a detailed account by member Paul Whatton of the techniques he used to track down the true identity of his grandfather who went under what turned out to be an alias of John Fenton. DNA played a crucial part in unravelling his real story and the name he had been born with.
Kate Boyle explains the thoughts she had when deciding whether or not to take a test and a collection of readers tell of their own experiences with DNA testing, or of deciding they wanted nothing to do with it.
'Buried in the Archives', our regular look at past issues of The Greenwood Tree, unearths an article about DNA written by Debbie Kennett in 2010 when the topic was much less in the public eye than it is now.
It is not all DNA, of course. Patricia Spencer uncovers the mystery of what happened to Dorset-born Sarah Jane Brett whom she first wrote about in 2016. Sarah Jane was twice widowed and left with four children at the age of 25 before disappearing from view. Recent research in newspaper archives revealed a whole new life for her in South Africa.
Bob Kelley tells the story of Charles Pitman, one of the Somerset railwaymen who went to work in Chesterfield in the 19th century, and Ken Isaac recounts the history of Dorset-born Ethel Gee and her role in the Portland Spy Ring.
The March edition also contains regular features such as 'Dorset Spotlight', this time on Child Okeford, 'What the Papers Said', 'Book Reviews', 'People, Places and Problems' and a whole page of 'Letters to the Editor'.
The June 2019 edition will focus on weddings, one of the three essential parts of our BMD research. Readers' contributions, with photographs and stories, are requested.
Paul Radford – Editor