The Greenwood Tree – March 2022
Posted on 22nd February 2022
Surprise Discoveries was the theme of the March issue of The Greenwood Tree and members found quite a few in their family trees, ranging from unsuspected branches opening up as a result of DNA tests to hitherto unknown criminal behaviour and much more. Editor Paul Radford previews the edition which will be mailed to members at the end of February and which SDFHS members can already view or download from the Members' Area of the Society's website.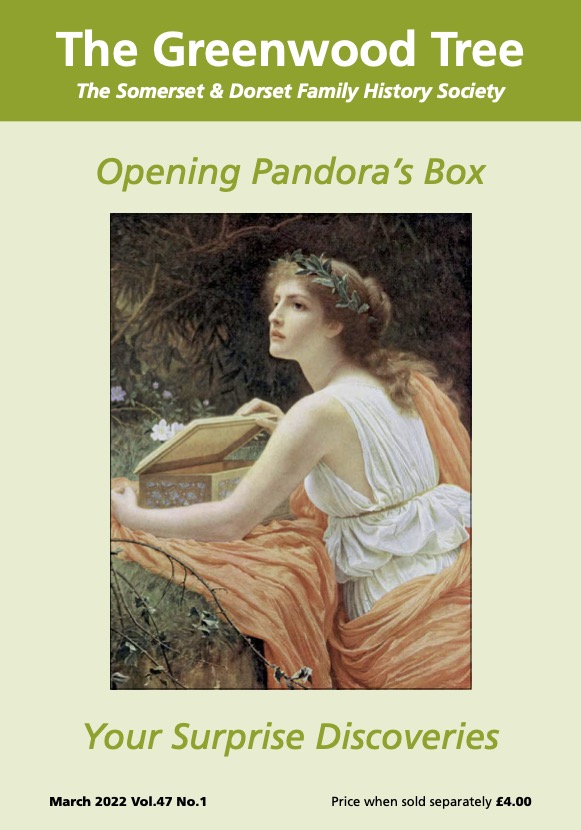 Laura Manning discovered in a random search through newspaper archives that the maternal grandfather she hardly knew had struck and unintentionally killed his drunken father in a fight at an East End market stall when he was just 19. Fortunately, the coroner recorded a verdict of death by misadventure.
Perhaps the most unusual story was provided by Maureen Lucas who found out that her great-grandfather had attracted national media coverage when, finding himself homeless when he returned after years in the army and at sea, he took up residence in a cave on Exmoor during his later years. His wife had moved on and remarried, believing him dead.
John Burt's story entitled A Bastard, a Bounder and a Canny Cleric tells the tale of discovering that his great-grandmother, born illegitimately, had been fathered by a Congregational minister who then declined to marry her.
Mary Rose Nichol unearthed a treasure trove of letters to a Bristol orphanage that revealed priceless details of the lives of the extended family of her Weymouth shoemaker ancestor.
Other members with interesting discoveries include Margery Hookings, Mark Barnes, Barbara Hurt, Anne-Marie Nash, Sue Wilson and Michael Pitfield, along with my own story of how I had unknowingly moved into the Dorset village where my ancestors lived 200 years earlier.
There are other topics too. Jeanette Simpson writes about inheriting a brooch awarded to her great-great-uncle for his part in the Afghanistan campaigns and Richard Smith provides a more recent military account of the Double Hills Tragedy in Somerset in which 23 servicemen were killed in World War II.
In the latest of our series in which The Greenwood Tree interviews an invaluable contributor to our Society or its magazine, the subject is SDFHS chairman Rita Pettet.
Regular features include Mike Whitaker's Somerset Spotlight, this time on Stogumber, the SDFHS Photo Project, Book Reviews What the Papers Said and Letters to the Editor.
Paul Radford