The Greenwood Tree – Sept 2021
Posted on 24th August 2021
The theme of the September edition of The Greenwood Tree is Grandfathers and members and readers provided the usual fund of great stories, this time about male ancestors several generations back. Editor Paul Radford previews the edition which has been mailed to SDFHS members who can also view or download it from the Members' Area of the Society's website. The magazine also provides necessary information for the Society's forthcoming AGM/Open Day on September 18 which will be held via Zoom and which it is hoped will prompt members from all around the globe to take part.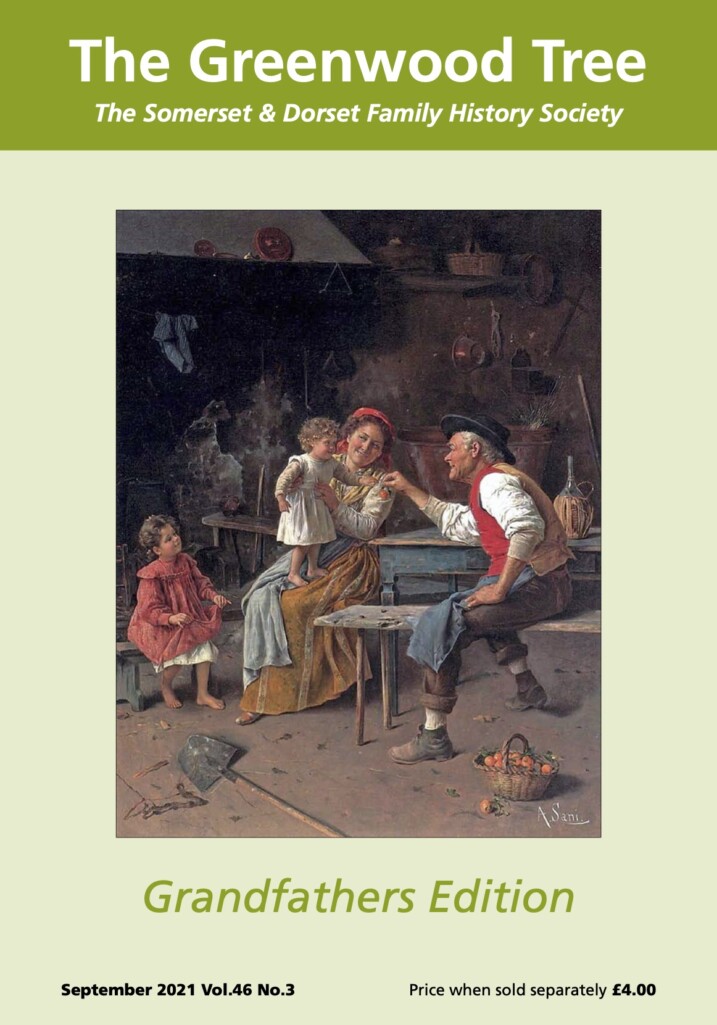 Award-winning Australian journalist Louise Evans tells the tale of her great-great grandparents Isaac Salisbury and Ann Mudford's ill-fated journey from their native Somerset to Australia on a ship struck by typhus. By the time, the passengers were released from quarantine in Moreton Bay 48 people, around a fifth of those on board, had died of the fever, including two of their own children, one a baby boy born en route.  Louise, by the way, received the Order of Australia Medal in 2019 and is the author of a fascinating family history book, Passage to Pusan, which tells the story of her grandmother's brave search for the grave of her soldier son in war-torn South Korea (https://www.passagetopusan.com/).
Margery Hookings' grandfather Percy Withers became a tenant farmer in Somerset after World War One and wrote poetry in his spare time, published in a collection named Rhymes by a Rustic. Three of them appear at the end of Margery's story.
Lorna Hawker Durrani's story of her great-great-grandfather William Halliday is entitled The Grand Old Man of Wells. He was a multi-talented craftsman who won honours at the highest level. The walking stick he designed for then prime minister William Gladstone is still on show at the Gladstone family home.
Richard Smith's grandfather Frederick Hillier was also connected with a famous politician. He was among the first people in Weymouth with a motor car and was chosen to drive Winston Churchill to inspect the naval fleet in 1912.
There are also more grandfather and great-grandfather stories from Val Messer, Jeannette Simpson, John Damon, Janet Hall, Adrian Pavey, Veronica Golding and the editor himself who relates the tragic end of his ancestor David Radford after leaving Dorset for a new life in Guernsey.
The issue contains other topics too, including the curious will of Thomas Arundell in 1485 in which he asked for his bones to be buried for a while in a churchyard before being dug up and taken to Dorchester. The notorious life of Taunton woman Ann Plowman, who was constantly in the headlines, the courts and prison is told by Vanessa Harvey.
There is an article turning the spotlight on Mike Whitaker, the man who writes Somerset and Dorset Spotlights for The Greenwood Tree, along with his latest contribution to the series, this time on Ilchester.
Other regular features include the SDFHS Photo Project, which includes a photo of Dorset police sent to South Wales in 1926 because of a miners' strike, What the Papers Said, Letters to the Editor and Book Reviews and Booksales Information.
The December issue will also have a theme. Members will be invited to send in stories and pictures on the topic of Crime and Punishment.
Paul Radford