The Greenwood Tree – September 2022
Posted on 24th August 2022
The theme of the September issue of The Greenwood Tree is 'It Runs in the Family' and members obliged with stories of physical traits and of trades and professions which pass through the generations in their respective trees. Editor Paul Radford previews the edition which will be mailed to members at the end of August and which SDFHS members can already view or download from the Members' Area of the Society's website.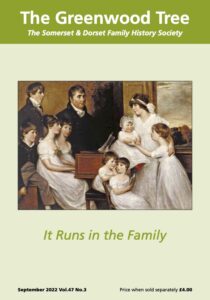 Elaine Orchard could not understand why her father's second forename was Warry till she dug deep into her family tree. She found the surname had been used as a forename in the family for numerous generations and eventually tracked it back to a Crewkerne wedding in 1810.
Michael Pitfield discovered three generations of publicans in the Dorchester area, a sequence ended by his grandfather who was a lifetime teetotaller. Margaret Spiller went one step further, finding four generations of Dorset shopkeepers in her tree. Ryan Weller found his family had several lawyers and ancestors with connections to the Wincanton Bank.
Richard Smith discovered a tradition of blacksmiths in Weymouth while Margery Hookings, herself a journalist, perhaps unsurprisingly revealed many writers in her family, including, to her amazement, as a distant cousin, the great American author Ernest Hemingway.
Donna Heys thought she had drawn a dead end in researching great-grandmother Mary Smith until the discovery of a photograph showing an undeniable family likeness which linked her to closer relatives. Peter Meech, Peter Wynn and John Damon also came up with intriguing stories on the It Runs in the Family theme.
There are other topics too. Chris Caswill tells the tale of Henry Pinn Caswill who abandoned his life as an ag lab in Somerset to become the gardener of a controversial priest.
Suzi Phillips of New Zealand traces her maternal line to Dorset in the seventeenth century and Paul Radford meets the arts professor whose chance encounter with an elderly writer led to the publication of a classic novel.
In the latest of our series in which The Greenwood Tree profiles an invaluable contributor to our Society or its magazine, the subject is regular contributor Bob Kelley whose life story includes a spell, in his own words, as 'Saddam's Cleaner'. Bob also contributes a tragic World War Two family story when the Germans bombed Frome in 1941.
Regular features include Mike Whitaker's Somerset Spotlight, this time on Porlock, the SDFHS Photo Project, What the Papers Said, Letters to the Editor and Society News.
Paul Radford