The King's Mercy
Posted on 2nd June 2020
Following King George III's first period of mental instability in 1789, his doctors advocated the benefits of sea air, sea-bathing, and sea-water drinking to alleviate his symptoms. As the King's brother, the Duke of Gloucester, owned a property in Weymouth. The town was chosen for the King's recuperation. The first visit was successful and George, with other members of his family, became regular visitors until 1805.
While the royal vacations were largely limited to Weymouth, the family did sometimes visit local gentry in their homes and made excursions to nearby places of interest.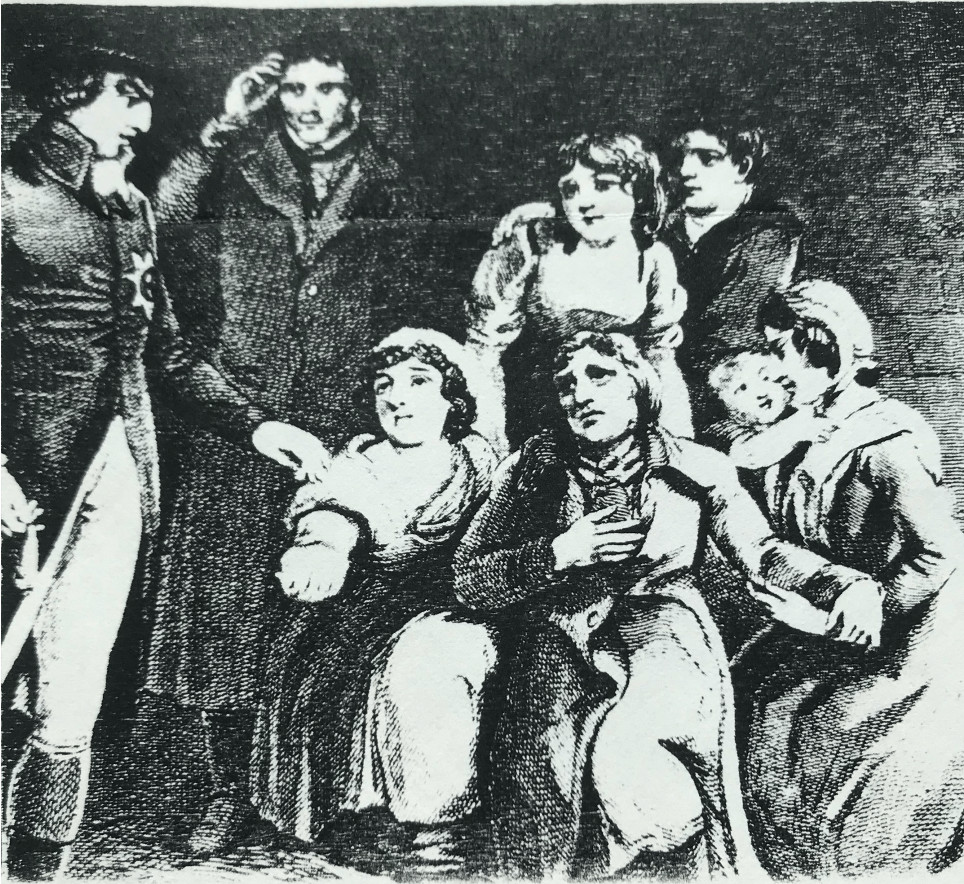 One such visit, in 1792, was to Dorchester Jail. On Monday 10th September, the King was accompanied by the Queen, the Prince of Wales, the Duke and Duchess of York, and the King's daughters, the Princesses Royal, Augusta, Elizabeth, Mary, Sophia, and Amelia, plus their suites and the local MP, William Morton Pitt. The party visited the new County Jail (under construction) with which they were very impressed. In the old prison they viewed prisoners at work. The King enquired if there was any particular case of hardship amongst any of the prisoners confined for debt.
An example was given of a mason who had already served seven years for a debt of £220. He had been committed in 1785 in a suit brought by Ralph BARTLETT, John HANSFORD, and Robert BARRET acting for Lord ARUNDEL. During his term he had been employed whitewashing the prison, mop-making and peg-making. Throughout this time his conduct had been exemplary.
The King interviewed the man and was so moved by his story and his plight that he ordered his immediate release. Later the same day, before he left Dorchester, the King arranged for the debt to be paid.
The man concerned was John PITFIELD (1733-1811) of Whitchurch Canonicorum. Sadly, he found life difficult outside prison after such a lengthy confinement. After three months he returned to the jail on a voluntary basis and was found a modest job by the Keeper, Mr ANDREWS.
The engraving (above) after a painting by Thomas STOTHARD depicts the scene, though it exhibits generous 'artistic licence.' John Pitfield was a bachelor: he had no wife, grown-up son, two daughters or a little child! Doubtless the artist thought their inclusion would engender greater sympathy for the prisoner and would reinforce a positive image of the King.
The research for this blog was stimulated by the picture which had been in my possession for some time. I was able to establish key facts about John PITFIELD from parish registers and prison records, but these gave only the bare bones. Rich sources of detail were the archives of regional newspapers, many of which are now digitised. A real 'treasure trove' for this though (and many other anecdotes) is 'Somerset & Dorset Notes & Queries' (1890 to date). Copies of this rich source are fascinating and are available to Members in the Society's library. An index is available on the S&DNQ website at www.sdnq.org.uk.
Michael Pitfield
If you would like, please send us your comment.
Sources
'Somerset & Dorset Notes & Queries', Volume 17 (1923)
'Western Gazette', 17 September 1792
'Western Flying Post or Sherborne and Yeovil Mercury' 17 September 1792 (This is one publication)
'Bath Chronicle and Weekly Gazette' 27 December 1792
Parish Registers, Prison Records.