The Pasley Engine Company, Sherborne
Posted on 29th November 2015
On Saturday 21 November 2015 we held our second successful 'Sherborne's Industrial Archaeology' day, chaired by George Tatham and with talks on several fascinating topics by Barry Brock and Graham Bendell. Here Graham summarises the history of William Henry Pasley and his Sherborne-based engine company.
William Henry Pasley was born in Ireland in the late 1850s. By 1871 he was an apprentice ironmonger. Clearly he learnt his trade well as, by 1881, he was an ironmonger employing five people in Wimbledon High Street. Pasley appears in Sherborne in 1885 when he took over the premises at 85, Cheap Street, which were previously occupied by Thomas Penny, ironmonger. Pasley was an innovator and in 1890 registered a patent for "improvements in oil stoves". The business appeared in Kelly's Directory and the Western Gazette carried reports of Pasley's local involvement. For example, in 1890 he supplied ironwork and a screen during the refurbishment of Stowell Church and cast-iron windows for the extension to the Castleton Waterworks pumphouse were supplied in 1898.
I have yet to establish exactly when, but at some point around 1890 Pasley started a company which manufactured and supplied oil and gas engines. From a newspaper report it is apparent that Pasley did not assemble his engines in Sherborne but contracted with Carson and Toone of Warminster to do so. The engines were to Pasley's design and specification but went direct from Carson and Toone to Pasley's customers. Carson and Toone were also making their own engines at this time. It is probable, however, that Pasley carried out his development work at Sherborne. The late David Hunt, of the Long Street cycle shop which fromerly traded at the premises now occupied by the estate agent Gilyard Scarth, once told me that there was a concrete engine bed at the rear of the premises occupied by Pasley's ironmongery.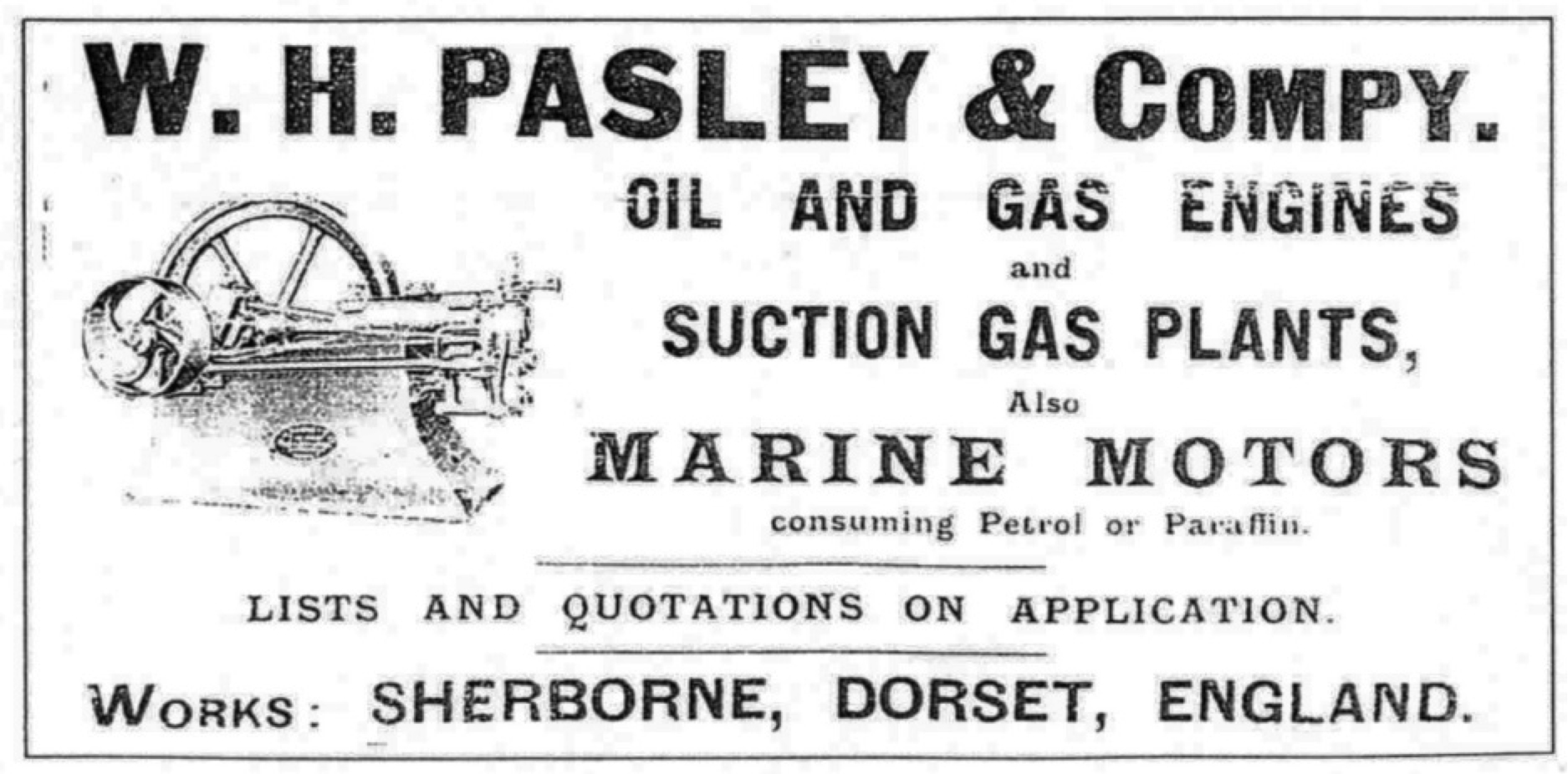 In 1894 Pasley registered a patent for the improvement of valve, gear, and governing of, internal combustion engines." Pasley's engine was called the "Demon" and was manufactured in different sizes "up to 50 HP" and the horizontal arrangement was maintained throughout the engine's production life. It could be produced as an oil or gas engine.
In 1903 Henry Durrant took over the shop where Pasley had his ironmongers and moved his grocery business there. By this time Pasley was living in Castleton and, presumably, from this time onward, concentrated on his manufacturing business. In 1900 he applied for planning permission to erect a workshop at Castleton but I am unable to find its location. This would suggest that he was assembling his engines in Sherborne from castings made elsewhere and this was reinforced by an advertisement in 1907 for a fitter at Castleton works.
The fitter's job in Sherborne was short-lived as, during 1908, Pasley applied for planning permission to erect a factory in Colchester and, by 1910, was living there. The business continued producing Demons until around 1916/7 when it went bankrupt. The factory was taken over by the Paxman engineering company to increase their capacity. William Pasley, his wife Mary, and son Charles moved to Hampstead where his wife died in 1924 aged 51 and he followed in 1926 aged 68.
The Pasley Engine Company was in existence for around 26 years and in that time must have produced hundreds of engines but surprisingly little is known about it. It seems the majority of production was for export, particularly to Australia and New Zealand. This is backed up by the fact that, of the engines known to survive, four are in Australia, one in New Zealand, one in South Africa and, possibly, two in the UK.
Away from his business life, William Pasley married Harriet Mary Coling Newman in Warwickshire in 1889 and their only child, Charles, was born in Sherborne in 1891. Pasley was an accomplished watercolour artist and examples of his work crop up on eBay, selling for around £90. Mary Pasley was a singer and took part in the Sherborne Pageant in 1905 as a member of "The Dramatic Chorus". The Essex Newsman of 25th January 1913 reported that Mrs. W. H. Pasley sang in a concert at Harwich.
Their son, Charles, became a production engineer for Handley Page, makers of the WW2 Halifax bomber. Charles and his wife, Marjorie (Makepeace) had one child, Anthony Du Garde Pasley born in 1929.   Anthony served in the Army for 16 years before training to be a landscape and garden designer. He rose to become one of four principal judges for garden design at the Chelsea Flower Show.
Anthony never married and, with his death in 2009, William Henry Pasley's branch of the family died with him.
My research for the presentation I gave, and this article, was undertaken using the following on-line resources-
The British Newspaper Archive – http://www.britishnewspaperarchive.co.uk/home/NewspaperTitles
(Western Gazette articles)
Historical Directories – http://specialcollections.le.ac.uk/cdm/landingpage/collection/p16445coll4
Censuses (Find My Past)
Electoral Rolls (Find My Past)
BMD (Find My Past)
Google searches – For example: the Adelaide Advertiser carried an agent's advertisement in 1909 at
http://nla.gov.au/nla.news-article5179341
Plus
The Stationary Engine Magazine (1996 article I saved nearly 20 years ago)
A small file of information, including advertisements, in Sherborne Museum.
Graham Bendell