Show and Tell
Posted on 12th November 2020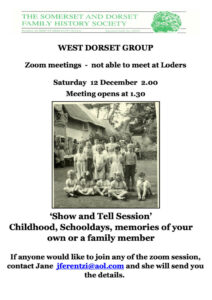 Show and Tell: Childhood, School Memories of your own or of a family member.
Presentations include the following:
Evacuation of a 14 year old to England from Guernsey.
Jersey – war-time internment in Germany: diary of a 14 year old.
Growing up in rural Dorset during and after WWII.
School memories and memorabilia from the 1950 and 60s.
Memories of Feltham.
Mum's days at school and training to be a midwife.
Memories of an evacuee.
School photos from the last 140 years.
Memories of boarding school.