A Century in Chancery – the legal battle between two families.
Posted on 17th February 2021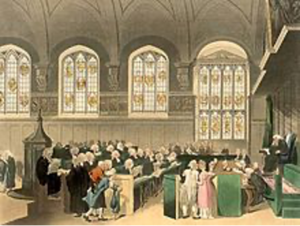 In earlier times marriages were often business arrangements between families rather than the love matches we are used to today. Marriages were associated with 'marriage portions' (dowries), often involving land and other property. Such settlements could often be disputed if circumstances changed. People went to extraordinary lengths to maintain ownership of land and to keep it 'in the family'.
A case in point is the extraordinary and complicated legal battle between the FULFORD and ACHYM families of landed gentry which lasted throughout the 17th century. The full story is told in research that is a tour de force by genealogist Roland Ames Hill, which can be read online (see Sources below).
The key figure in this is Colonel Sir Francis Fulford MP (1583-1664) who owned estates in Great Fulford, Devon, as well as Winterborne Whitchurch, and Toller Frampton, Dorset. He was Deputy Lieutenant of Dorset and High Sheriff. A Royalist in the Civil War, his eldest son Thomas (1604-1643) was killed at the Battle of Exeter, I am descended from him.
Francis's sister Mary (1593-1623) married in 1608, without her brother's permission (he had this right as head of the family) Thomas Achym (1570-1618) of Pelyat, Cornwall. After Achym's death Francis took legal responsibility for Mary's four orphaned children. This bought him into conflict in 1619 with Mary and her second husband Sir Ferdinando GORGES (1565-1647) of Wraxall, Somerset, over the inheritance and control of the Achym estates left by Thomas Achym to his eldest son (also called Thomas), with provision for his other children and for Mary. (As an aside, Sir Ferdinando was a naval commander, Governor of Plymouth, and founder of the colony of Maine in New England). In the midst of this litigation Mary died (1623) and Ferdinando withdrew. Francis took overall responsibility for the properties and the children who were looked after by Francis's mother at Toller Frampton.
As was often the case with guardians of wealthy wards, they sought to keep property within their family by marrying the ward to one of their own children. This happened in this situation when Francis married his daughter Ursula (1603-1635) to young Thomas Achym (1609-1669), they were first cousins. When this Ursula died Thomas was married to another Ursula Fulford (1626-1694) daughter of Francis's eldest son Thomas 1604-1643 and thus his first wife's niece. By his first wife Thomas had one son, also called Thomas (1634-1713).
Haha – all these Thomases! I hope you're keeping up – I did say at the start that it was complicated!
As the heirs to the Achym estates, Thomas the Elder and on his death Thomas the Younger became the litigants against the Fulford heirs for the ownership of the Achym lands and many other contentious items of property and settlements. This extensive series of lawsuits went on throughout the 17th century, taking up a huge amount of court time and costing an enormous amount of money. The Achyms and the Fulfords lost no opportunity to undertake litigation against each other and to intermarry in pursuit of their aims.
As an example, in my recent blog 'Lust and Litigation in 17th Century Dorchester' (January 2021) I wrote about the scandalous lawsuit involving Margaret JEWELL and her second husband Francis Achym, heirs of the Fulfords and the Achyms.
The Chancery cases were finally resolved in 1719 after almost one hundred years with the death of Mary's grandson Thomas Achym in 1713 without male heirs. The Fulfords thus prevailed.
The whole of this extraordinary and fascinating affair is described in Roland Ames Hill's book. This is a masterly example of genealogical research, including detailed analyses of the complex marital relationships between the two families. The book is illustrated with maps, family trees, and excursions into related families as well as detective work about 'lost' family members. It is a case study in how family research should be conducted. Ames Hill used it as his admission paper as Certified Genealogist of the American Board for Certification of Genealogists. The findings were first published in 'The Genealogist' magazine (USA) and then more fully as the book.
Any Society member looking to see how family history research should be well done would do no better than by reading Ames Hill's book, it is long and complicated but well worth it.
Michael Pitfield
Sources
"The Tumultuous Achym/Fylford Relationship" by Roland Ames Hill, 2003 (222 pages) https://www.familysearch.org/library/books/records/item/255992-redirection Parish Registers
If you would like, please send us your comment.